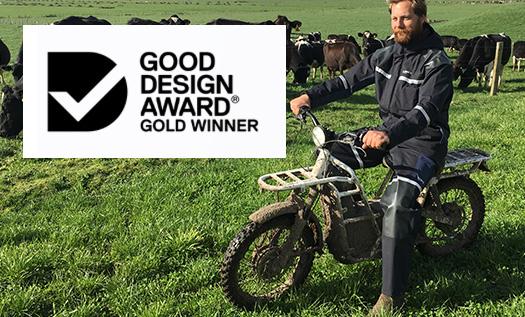 The beauty of the UBCO Electric Bike is there is no noise, and being a two-wheel dual electric drive bike it has great accessibility, making it ideal for everything from quietly hunting in the Australian high country to inspecting row crops or the grapes in a vineyard. And of course, everyday farm use.
UBCO recently won a Gold Award at the Australian Good Design Awards 2018 – "Next-level" technology straight out of New Zealand.
Simplicity and ease of use are a key feature of the UBCO electric bike and customers have commented how stable and smooth the ride feels. The super heavy duty frame is brilliantly designed with a low centre of gravity.
Running on battery power, the bike can travel around 120km on a full charge. It has a top speed of 50kph, recharges from flat to 90% in six hours (via a standard three pin plug charger) and it has a two-wheel drive for control in even the most slippery conditions.
The bike comes with USB ports for charging items from the battery, and can even be used to run an inverter to operate 240 VAC equipment. The frame is made with numerous mounting lugs for attaching specialised carriers. These could be for fencing material, hunting equipment, or even just a flat space for the dog.
Please note:
DUAL USE – is road registerable – $7,999
OFF ROAD – is not road registerable – $7,500
VIDEOS
Western 4W Driver – UBCO Electric Bike overiew
UBCO Electric Bike on-road overview
An awesome UBCO Electric Bike review from our friends at Drifta Camping and 4WD
RECOILtv – UBCO Electric Bike review (USA - Recreation and Leisure market)
View part of an insightful UBCO Electric Bike review by Russel Frost from "What Drives Us" (USA Vehicle Review Company).
See part of "Dirt N Iron" UBCO Electric Bike Review
UBCO Electric bike overview
UBCO Electric bike – "Little bit of UBCO history"
UBCO Electric Bike – Daviesway Farm Vehicles Australia