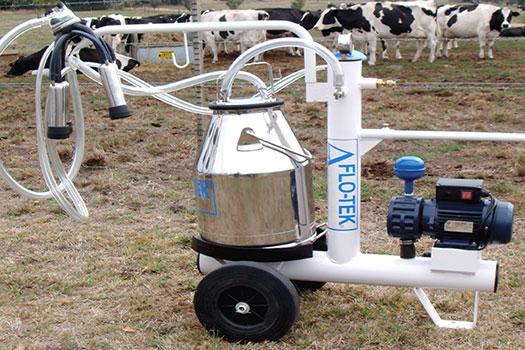 The mobile milker or mini milker is the first step for many into machine milking. Often used for sick cows or at shows, for many it is the step up from hand milking.
FEATURES
The units come with all equipment:
Vacuum pump and motor
Pulsator
Test bucket
Regulator
All hose for connection
The Flo-Tek imilk unit is available in a number of style
For Cows
Single unit – able to handle 1 cow
Dual unit – complete with two clusters and two test buckets – two cows can be milked at once
For Sheep and Goats
Single unit – 1 cluster
Single unit – 2 clusters
Able to milk two animals at the same time
Dual unit – 4 clusters
Able to milk four animals at once with two test buckets
All pulsators, clusters and vacuum levels are set to optimise the milking performance depending on the animals being milked.

We can set the dual units up so one side is for cows and the other side for sheep or goats.


Mobile Milkers Supplier - Dairy Solutions – Daviesway Pty Ltd