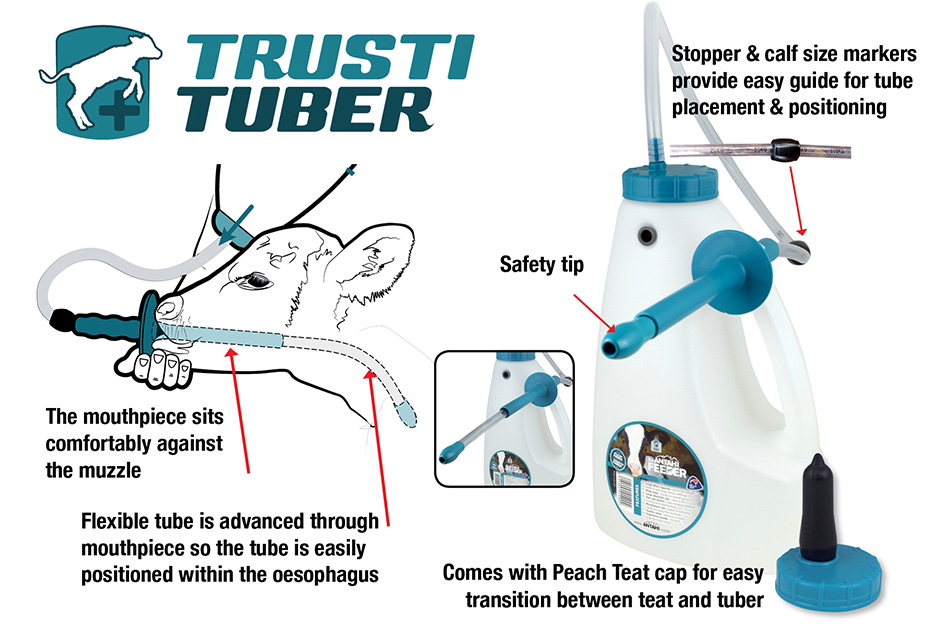 The Trusti Tuber has two significant design advantages which have drawn the praise of well-known veterinarian Rob Bonanno.
Rob is the former president of Australian Cattle Veterinarians. He has worked in large animal practice throughout his career, also taking in positions in the United States and China. He is now a dairy herd health consultant with Apiam Animal Health to help trouble-shoot and solve health issues within Australian herds.
The Trusti Tuber is the only feeder on the market which features a stopper marker using the calf's weight. It gives the operator more confidence, and an easy guide for the safe placement and depth of the tube's positioning in the calf's oesophagus.
The feeder holds four litres and can be used as a bottle feeder, or have the Trusti Tuber attached to it mid-feed. Combined with a soft, transparent, and flexible tube and a handle, the stress on the calf and operator has been eased significantly.
"I absolutely love these feeders," Rob said. "The real advantage of them is that the calf can suck from the teat, and if it stops you can attach the tube and tube-feed them the balance of the feed without changing the vessel.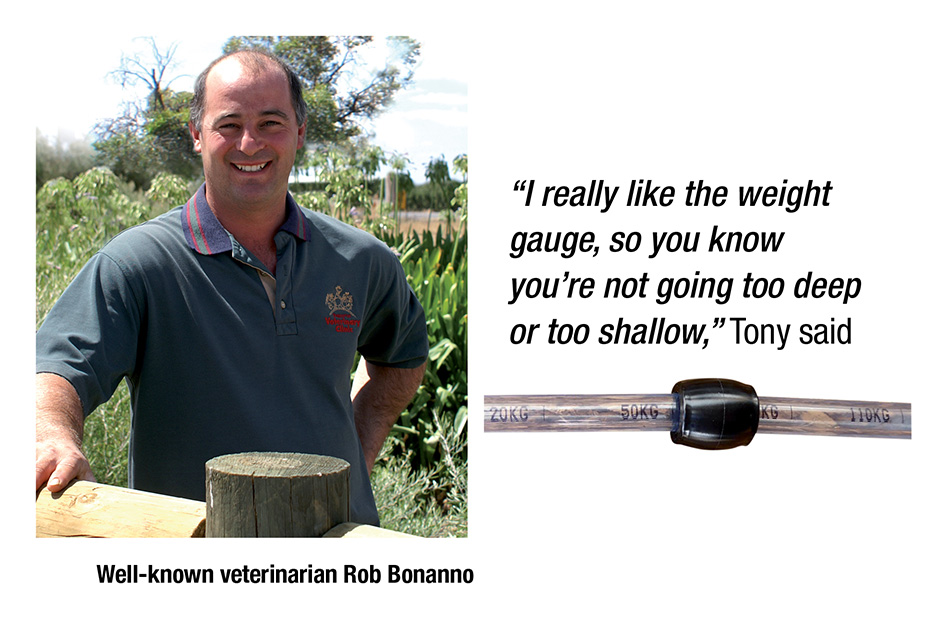 "Once someone has been trained to use them properly, that is the main advantage of them over other feeders – that the calf gets its four litres without having to swap and change bottles.
"I also really like the weight indicator on it, so that the tube can't be pushed in too far, or not far enough."
Northern Victorian dairy farmer Tony Hogan says he has also been impressed with his Trusti Tuber. Tony milks 110 cows at Skyview Holsteins at Merrigum.
"I really like the weight gauge, so you know you're not going too deep or too shallow," Tony said.

"I also like that it has a handle on it. 
My last one didn't have one and it was hard to hang on to. The tube is also really nice to work with. With my old tube feeder, when a calf moved it could be a bit of a drama. Now, that can't happen, and that's been less stressful for me.
"To be honest, while I don't use it that often, it's good to know I have it and that it's so easy and safe to use."
With a reliable valve that features fast flow even with thick colostrum, the Trusti Tuber has been shown in trials to almost halve the feeding time.
Tony says he wouldn't hesitate to recommend the Trusti Tuber to his colleagues: "I wouldn't go back to my old tuber ever again," he said. 
"It may be a simple piece of equipment, but its additional features are logical, and they put it in a different league compared to other feeders on the market.
"No-one likes tube-feeding calves, but if you are going to do it, you may as well do it right, and as safely as possible."