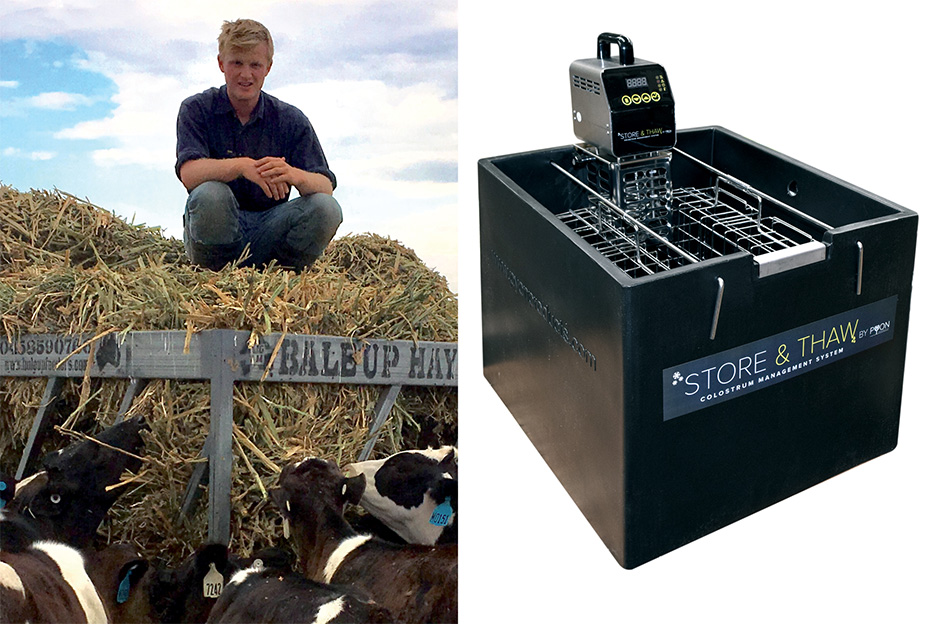 Manually thawing colostrum for 20 new-born calves in a day is no-one's idea of a great time.

So when Tim McCann and his parents, David and Sandy, found a way to push "fast forward" on the challenge, their relief was palpable.
The Gippsland family milks 650 cows on 300 hectares at Nambrok. They also rear up to 700 calves, which includes herd replacements and bull beef – on another 400ha in the area. They are committed to feeding colostrum within the first six hours of every calf's life, so the clock is always ticking during calving.
Now 23, Tim came home to the farm three years ago, where some of his responsibilities include calving and calf rearing. Because they had historically frozen all their colostrum in Coke bottles, thawing it out was a protracted and labour-intensive task. "Time was the enemy," Tim said. "Especially when I decided I wanted to give all the calves two litres of colostrum within the first six hours
of birth, and another two litres in the next six hours. Thawing it sometimes took us about four hours."
PROBLEM SOLVED
This season they solved that problem when they invested in a Store & Thaw unit.
The award-winning innovation thaws four litres of frozen colostrum to feeding temperature within 15 minutes, and eight litres in 25 minutes.
The colostrum – frozen in space-saving, flat-pack, robust plastic bags – is thawed suspended in a metal cage, which is submerged in a warm bath of circulating water running at 45 degrees Celsius.
The flat-store feature has two advantages: convenient storage in the freezer, and a greater surface-area-to-volume ratio for rapid, uniform thawing.
Store & Thaw also pasteurises milk at 60 degrees Celsius within 60 minutes. Pasteurisation will kill Salmonella, E.coli, and Mycoplasma bovis.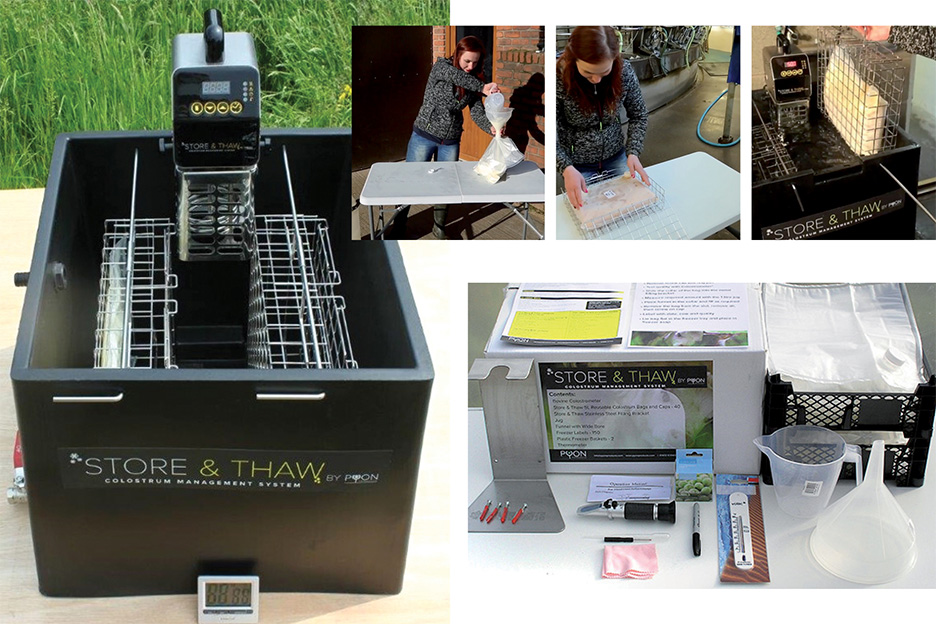 "The biggest thing for me was that the Store & Thaw saved a lot of time stuffing around defrosting colostrum in hot water at our house," Tim said.
"It's finally made it practical to get the colostrum consistently into the calves at the right time – even at the numbers we're feeding.
"And, because the packing is flat, it heats up a lot quicker and more evenly because of the increased surface area to volume."
GREATLY DECREASED CALF MORTALITY
Tim said eliminating scours was impossible both with group housing for young calves and with older calves in paddocks, which had been used for three decades. However, with management changes – Store & Thaw, chief among them – the McCanns' calf mortality rates dropped this season from more than 5% to less than .003%.
It hasn't hurt that Sandy is a veterinarian. She has been actively involved in diagnosing and treating calves within the new regime to help get everyone on solid ground.
Tim said,"I wouldn't say that the Store & Thaw solved our scour problem, but for me, getting the colostrum into the calves quicker has meant they bounced back quicker from any setbacks, and they seem to avoid any complications with secondary infections that can often make them critically ill."
SILENT ADVANTAGES
He also noted there were silent advantages with Store & Thaw.
"It's not just the one thing of thawing colostrum. It's also all the flow-on things. Because we're not spending so much time thawing colostrum, we're less under the pump for time. So, we are doing a better job of looking after the calves in general.
"And, we all feel more confident with the process, knowing that we're giving our calves the best possible start we can."
** Footnote: Store & Thaw has won the UK's RABDF Livestock Machinery and Equipment Award – given to the product that delivers the most economic value to the livestock sector.