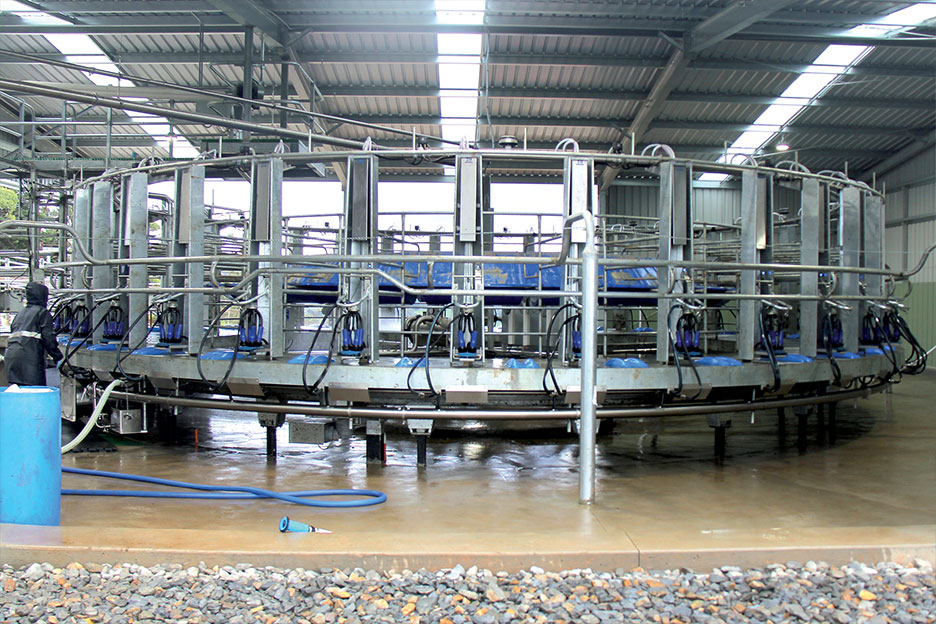 Gippsland share farmers Ben and Lou Hall look forward to milking these days for good reason.
The couple, who work for Sam and Pattie Linklater, are milking in a spanking new 36-stand rotary dairy at Victoria's Buln Buln East. It's a far cry from the dairy that used to stand on this site – a 20-a-side herringbone dairy with no stall gates – which took 7.5 hours to milk on a good day, without breakdowns.
Ben and Lou are quick to acknowledge the freshly minted dairy they now wake up to every day, has eased their workload in so many ways.
Built after close collaboration with Daviesway's specialist team, the Allenby Engineering platform formed the base for a full Daviesway plant. It includes a M8 Vacuum pump, a BouMatic Auto wash system with Wilson Hot Water Services, a lowline milking system with Variable Speed Drive (VSD) milk pump, a Jumbo milk filter, an industrial plate cooler, Tech-line Visi claws together with Milkrite shells and vented triangular liners and Milkrite Interpuls High-line pulsation. It also included a Daviesway independent bridge-mount teat sprayer, with Ambic cow locators. Milking is now one hour and 10 minutes of smooth sailing.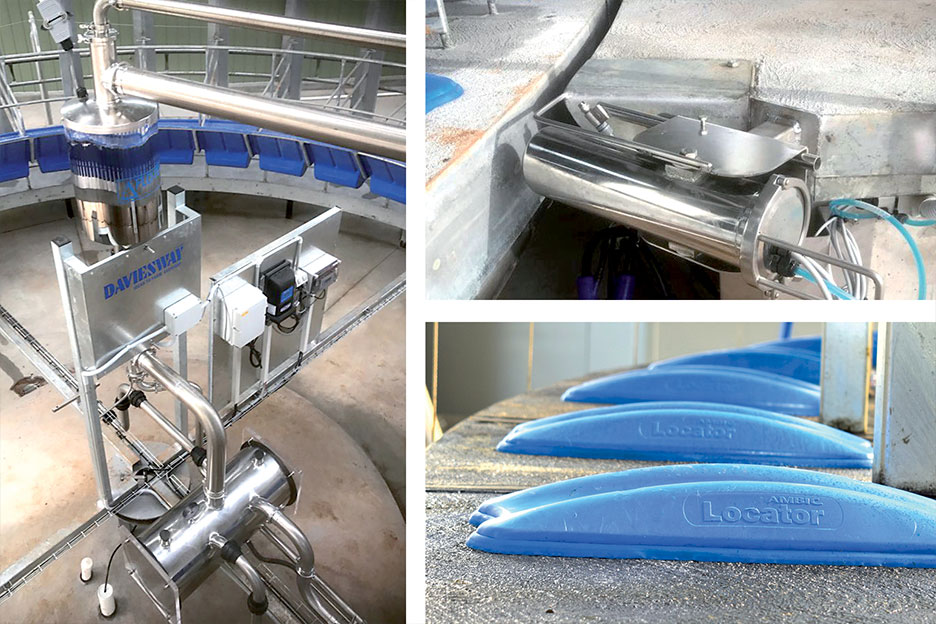 "When I finish milking, I'm no longer worn out and angry," Ben smiles. "Neither are the cows. It's like a different herd. It's unbelievable."
Ben said the rotary takes 11 minutes per round on a freshly calved herd.
"And, we're not pushing it at that. We could do it in nine to 10 minutes, but we've tailored it. We're sending about five to six cows around again, which we are comfortable with. Because
it's still faster milking to send 10 per cent of the herd around again, than it is to send none and slow the platform down.
"For the size of the farm and the amount of cows we milk – peaking at 320 – this sized dairy is a perfect solution. Even if we milked 360, it's only 10 laps."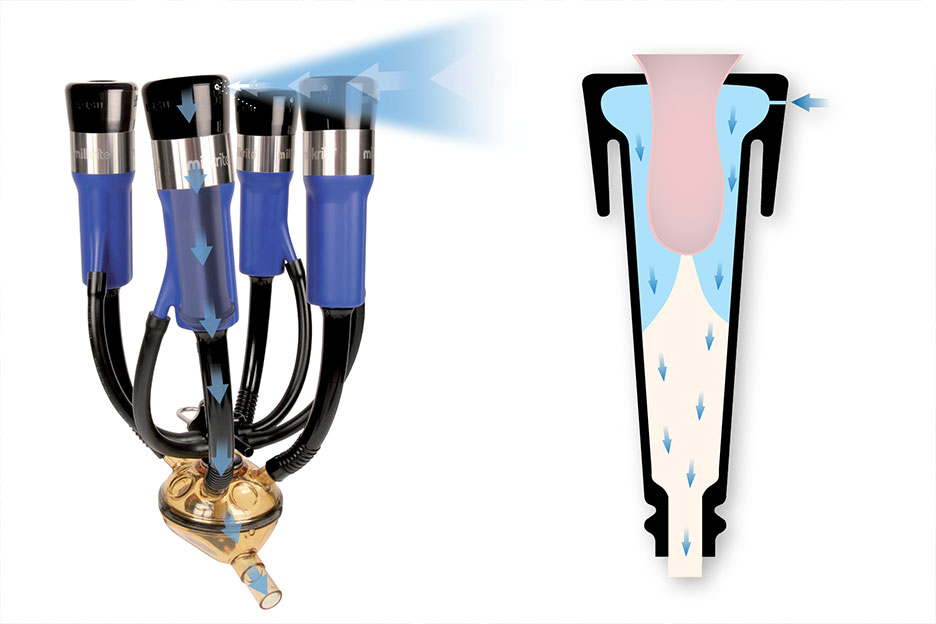 The Milkrite vented triangular liners have been a winner – its global popularity a result of the revolutionary design.
"I get one set of cups kicked off every 10 milkings, and I no longer get cup-slip," Ben says.
"In the old dairy, I'd have 10 cups off every milking. The clusters used to be heavy, and when one cow would kick, she'd mostly likely knock the cups off the cow next door, which often turned into a knock-on effect.
"It's amazing the difference the new dairy makes in that regard. The heifers are also doing better, because they get their own feed and bail, instead of getting pushed around by the bigger, older cows."
Ben said he was determined to include cow locators, because he also wanted Automatic Cup Removers (ACR) and auto teat spray – making the dairy a one-person operation if it was needed.
"With the ACRs you need the cows standing right, so when the cups come off everything else flows smoothly. The cups hang better, so the milk out is nicer and it makes the teat spraying more accurate."
Ben said they chose the Tech-line Visi claws because they were cost-effective, light, robust, and manufactured in-house by Daviesway at Warragul. A claw-lift feature is a practical advantage because as one set of cups is activated, it pre-lifts the next unit in readiness for the operator.
In a nod to worn backs across the nation, the new jetters fold up and out of the way during milking, and attaching the clusters after milking involves no bending.
A variable speed milk pump cools the milk to 6°C by end of milking and a Bou-Matic auto wash system saves the couple 20 minutes every milking.
"Both of those additions have been fantastic," Ben said. "The milk in the vat used to be still 20 degrees by the end of milking, so I suspect our power bill will now be better too.
"And, we can start the auto wash system after milking…and walk away."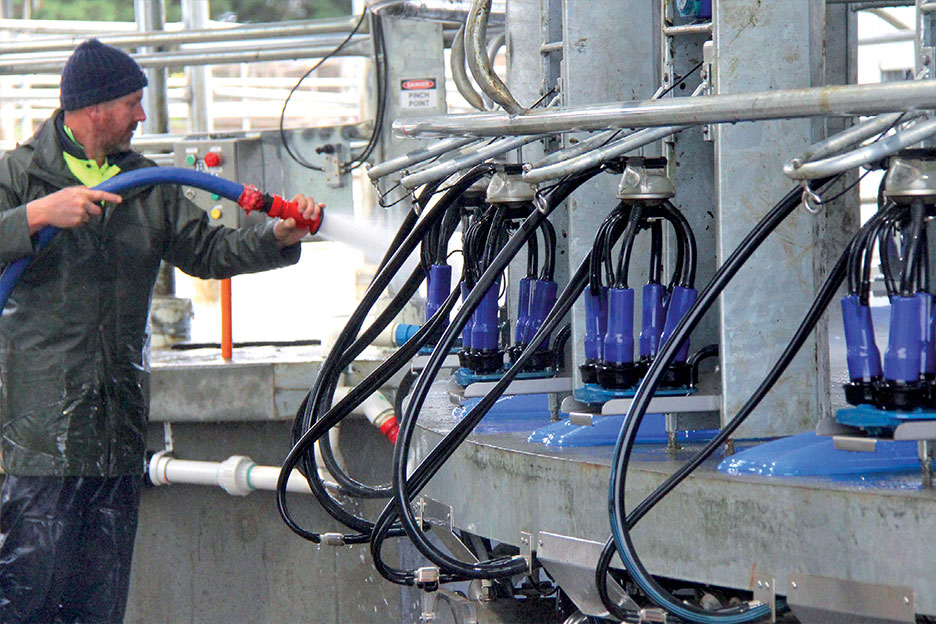 They chose to include two feed heads in the grain-feeding system, so they can lead feed the dry cows. And, they installed an extended bridge area where they can stand at cow-height on the platform at cups-off, and treat cows while they are still on the rotary, if they choose.
"It makes it quicker and less stressful for everyone," Ben said.
The final piece of the puzzle is that Ben knows Daviesway has a dedicated local service team.
"I can ring Daviesway at 6am and they'll be here in 15 minutes. It's nice to be working with local guys, who have such a great understanding of every part of our dairy."