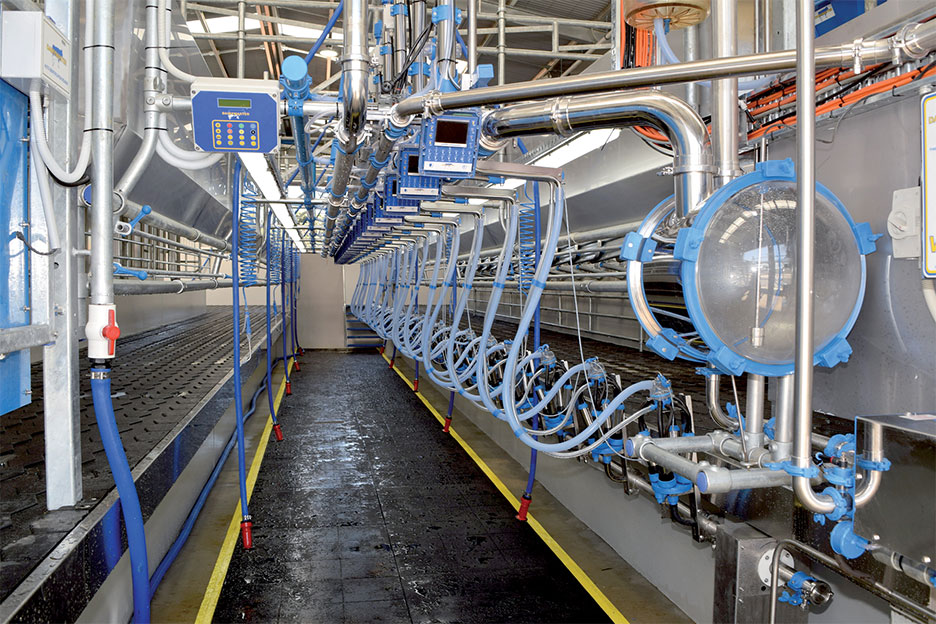 "THE IDEA WAS TO FUTURE-PROOF OURSELVES" – NEW DAIRY

One word summarises what Rob Pedersen likes most about his new dairy at Jindivick, 90 minutes out of Melbourne. "Everything," he beams.

His initial inquiry to Daviesway was to replace the herringbone his grandfather had built in 1961. The dream got bigger when Rob, 30, and wife Samantha, 28, realised the impact the technology would have on their management decisions, and family time.
"The idea was to future-proof ourselves," Rob says. "Why not have 200 cows that are efficient, rather than 300 cows that aren't doing very well?"
They made the decision to "leave nothing on the field". Today a state-of-the-art 20-a-side DairyKing fully automated herringbone sits atop of the hill at the epicentre of their 100-hectare (246-acre) farm. It takes 1.5 hours to milk and clean up – five hours less than through the old dairy – on a herd averaging 34 litres with a somatic cell count (SCC) of 59,000.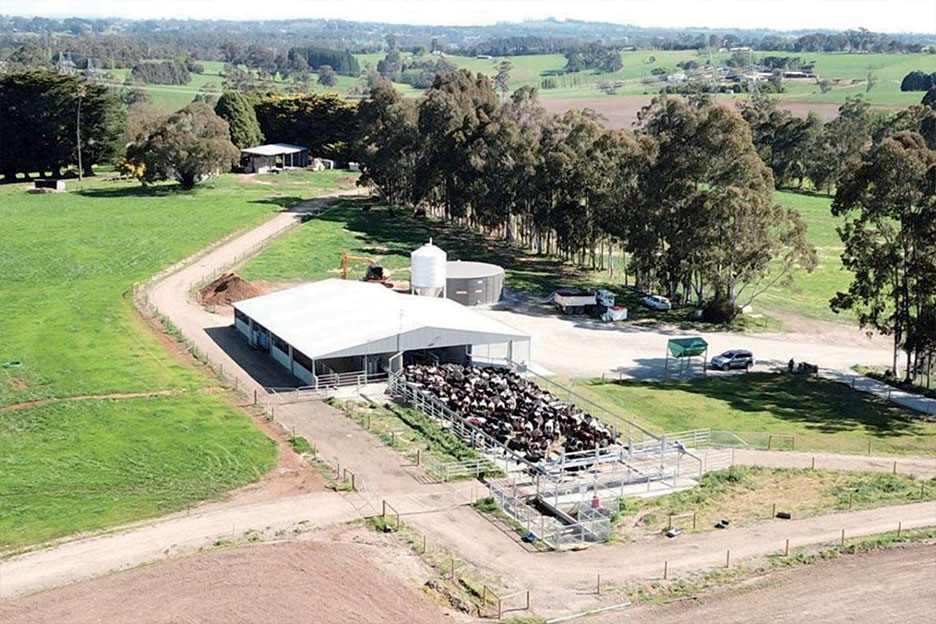 > The dairy is at the epicentre of the farm, and includes a significant undercover concreted auto-draft area for comfortable working conditions in all weather.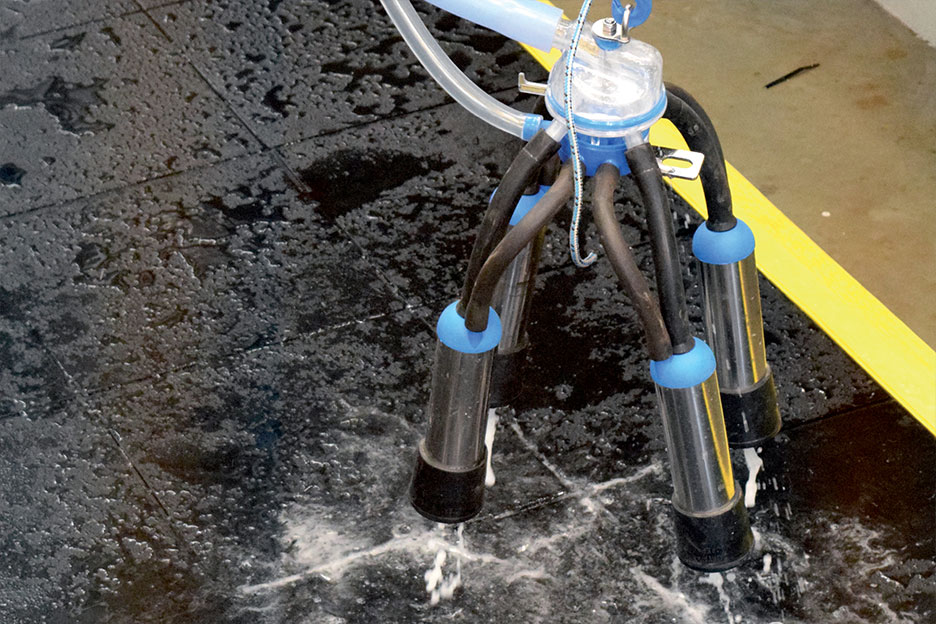 > A cluster cleanse system back-flushes with a sanitiser and compressed air after every cow is milked.
THE NUTS AND BOLTS
"I felt the 20-unit herringbone was the best size, and it was cheaper than a rotary," Rob says.
"The reason for DairyKing was because everything was modular, so we could build on it if we wanted to take it a bit slower."
The dairy includes the first DairyKing vat to be installed in this country, and a cluster cleanse system, to back-flush after milking every cow with a sanitiser and compressed air. A variable-speed milk pump keeps the flow of milk to the vat even and continuous, and makes cooling milk a more consistent and power efficient process. The effluent pump is also attached to a variable-speed drive system, easing monthly power costs.

A diversion line system has negated the need for test buckets in the dairy; an up-and-over scraper backing gate includes auto-advance after every second side of cows are milked, and the backing gate doubled its value by scraping the yard clean as it reversed back down at the end of milking. Yard wash-down now takes one minute and 20 seconds.
Individual MooMonitor+ cow collars monitor heat and herd health. Designed in Ireland, the collars use a wireless sensor system to track every cow's feeding, rumination, and activity.
Rob readily says the MooMonitor+ has been one of the revelations. The final in-calf numbers on the herd before MooMonitor+ was installed included 31 empty out of the 75 that were pregnancy checked.
"I think we were missing three-quarters of the heats," Rob said. "In three-and-a-half weeks, MooMonitor+ reported 80 cows on heat. And, 10 weeks from the start of calving, there was just one cow out of the 120 straws of semen we used that wasn't in heat".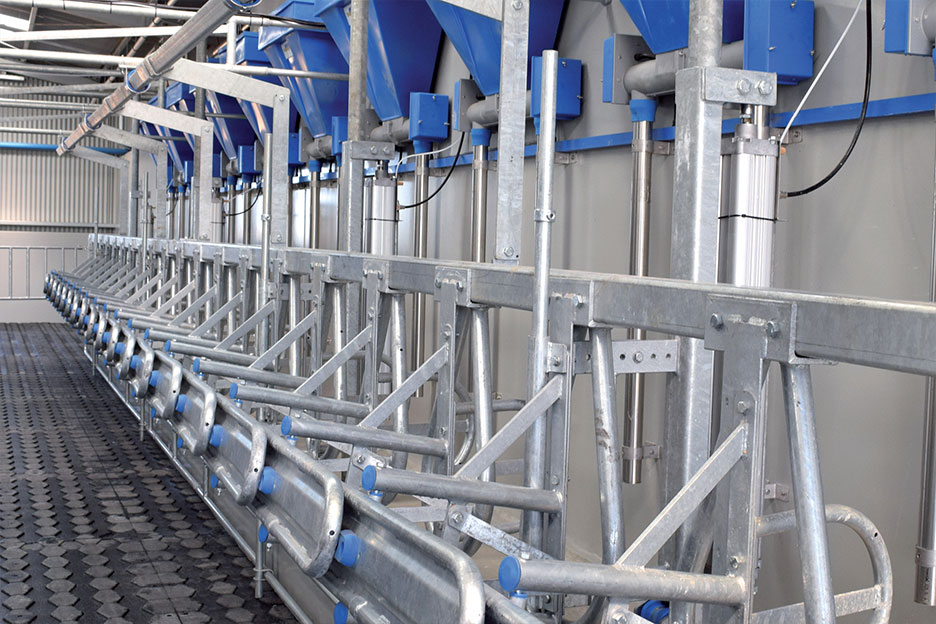 INDIVIDUAL SPOTS
"I think it's also good that the cows have their individual spots in the dairy because of the stall gates, and they seem to be a lot happier in the shed."
A significant undercover concreted and auto-draft area was built to comfortably deal with sick or cows that were in-heat.
"I'm not a real big fan of working in the rain," Rob smiles.
TRUST THE TECH
Rob quickly learned to trust the technology, after having 47 of 105 fresh cows triggered behavioural alerts on MooMonitor+ shortly after it was installed.
"It turned out the cows were getting too much grass and grain – they needed more fibre," Rob said. "We gave them more hay and the behavioural alerts were gone within three days and the herd was back up to averaging 28 litres. They were sub-clinically sick, without it being obvious to us."
FAMILY TIME AND BETTER RESULTS ON-FARM
While Rob finds it hard to pin point his favourite part of the new dairy, he has no trouble listing how it has changed his life.
"I now have more time for my family, because I'm home at 5.30pm and I can have dinner with the kids and put them to bed. And, I've put the time that I used to spend in the dairy growing more pasture," he says.
"You get pretty 'over it' with regard to other farm jobs after you milk for eight hours every day."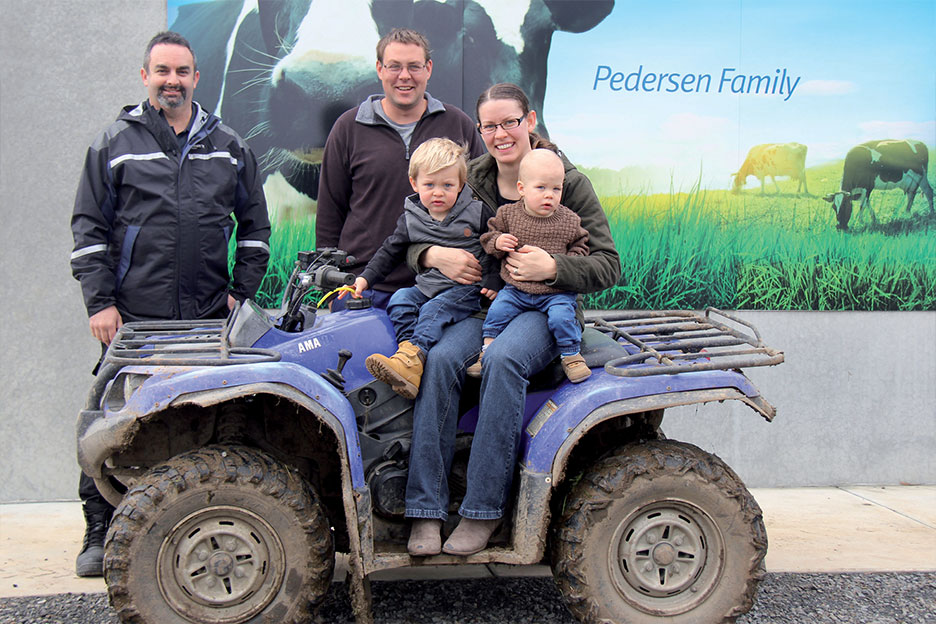 > Pictured from L-R is Daviesway Warragul's Greg Lechte with Rob and Samantha Pedersen and two of their three children, Lucas, 2, and Noah, 1. Family time just became even more important because on March 1 the couple welcomed daughter Jayde.