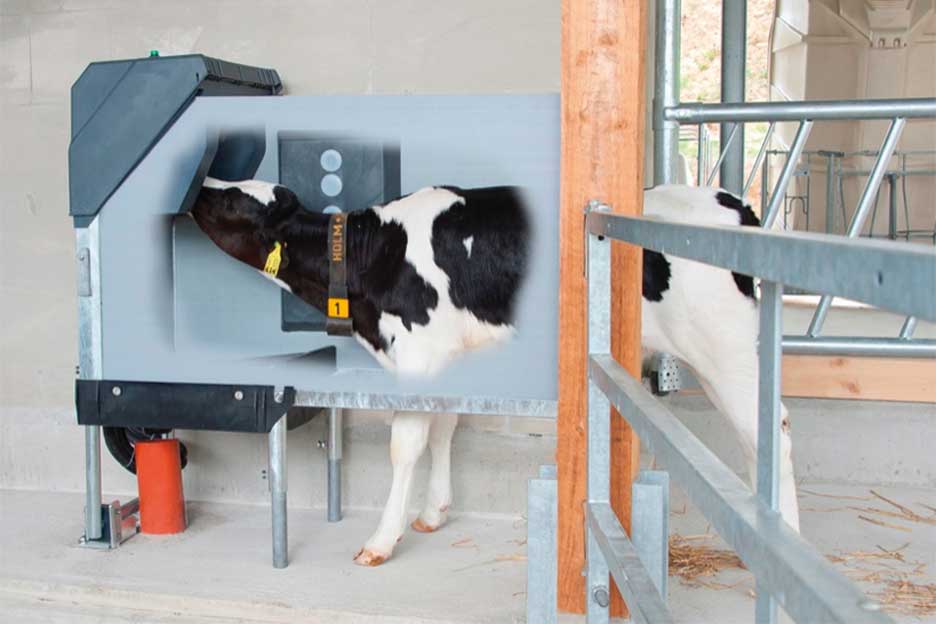 The past nine years of rearing calves have probably been the easiest of Dianne White's 50-year career.
That's because today the 70-year-old Leongatha dairy woman has a Holm & Laue 100 Auto Calf Feeder unit on the family's Dilee Holsteins – a 340-cow Master Breeder Holstein herd with a 10,000-litre average (per cow) from 202.5 hectares (500 acres).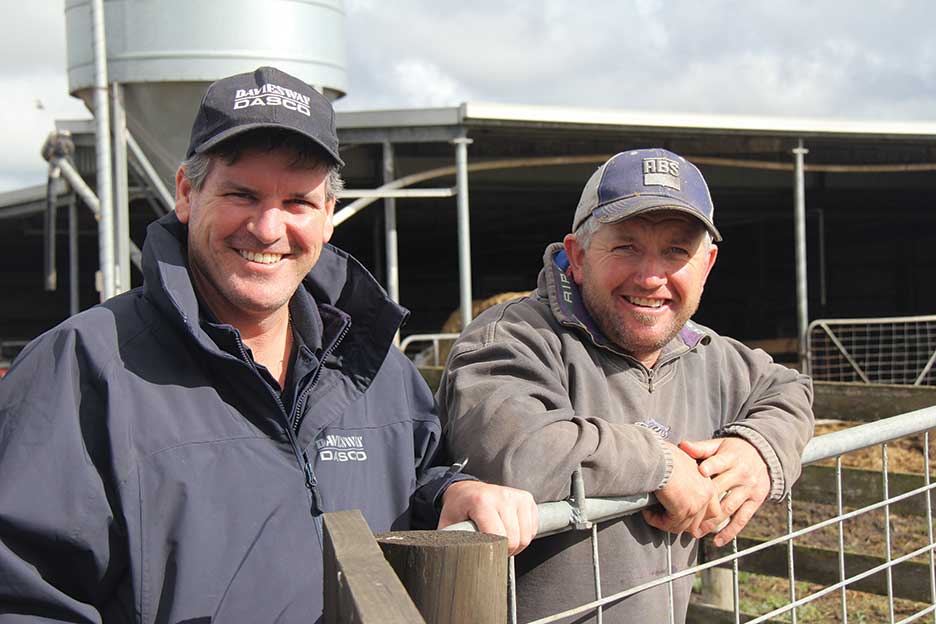 > Pictured L-R – Brendan McGrath (Daviesway Manager - Leongatha) and Russ White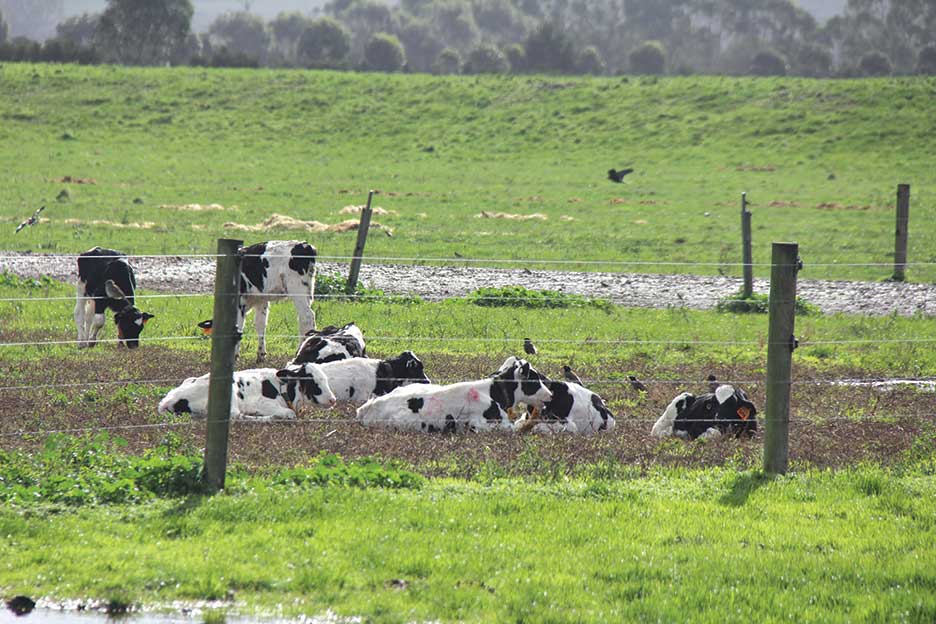 > Calves start on 4.8 litres of milk a day, peak at 6 litres, and are weaned at 90 days
TOUGH MADE EASY
Dianne is the first to say that nurturing the next generation hasn't always been easy.
She used to manually carry buckets of milk to fill troughs that fed up to 20 calves in a group.
It was a back-breaking and generalised effort. And, even though Dianne cheerfully says it wasn't too bad because she was "younger then", her husband Les and son Russ wanted to ease her workload.
Enter Daviesway/DASCO's Brendan McGrath. The Holm & Laue 100 calf-rearing unit, with two feeding stalls, was subsequently installed. Two more feeding stalls followed, while an extension to the calf shed finished the fine-tuning.
Today, the calves are hand-fed colostrum before being transitioned after the first week on to the Auto Calf Feeders, using a blend of fresh milk and milk powder. They start on 4.8 litres a day, peak at six litres, and are weaned at 90 days – making use of the Auto Calf Feeder's automatic and gradual weaning facility.
QUIET CALVES
Dianne rears 120 calves in the autumn and another 60 in October. The ACM supplier says the move to automate calf feeding regime has been a good one.
"It is pretty easy, really," Dianne said. "Once they're a week old, you don't have to worry about them too much, and it's much quicker to feed the intermediate and older calves during calving when you have new calves coming into the shed."
Son Russ says he has also noticed a welcome advantage in the dairy.
"Some people say the calves aren't as quiet on the automated calf feeders. We've had no problem with them, and what I also particularly like is that when they calve, they're used to walking into a stall, so, it's way easier to break them into the rotary.
"I wouldn't be keen to go back to feeding the old way we did it – and I don't feed the calves that often."
The H&L automatic calf feeder has the capacity to mix additives (such as probiotics) through an automatic dispenser into the milk, ensuring an accurate dose in the daily ration. And, the daily BioCalf dose is so concentrated [1gm per calf per day] that the H&L feeder can dispense 1000 doses before it needs to be refilled.
EXTENDING CAREER
Dianne readily acknowledges the investment has extended her dairying career.
Among the advantages are some big hygiene wins. At 40° Celsius, bacteria in milk doubles every 20 minutes. With the Holm & Laue 100, the milk is freshly mixed for every calf, and no milk residue contaminates the line because the feed stall automatically flushes and cleans the milk pipeline through to the teat after every calf drinks. The Holm & Laue unit's wash and cleaning temperature sits at 65 °C.
Individual feeding regimes are easy to monitor, while giving every calf the chance to reach its potential.
PROBIOTIC SAVING LIVES
The family has also incorporated BioCalf, a potent new probiotic powder additive, which is added to the milk every day. This is the only change they have made to their calf-rearing regime this season, and the results have given Russ food for thought.
BioCalf is a double-strength probiotic powder milk additive for calves, which contains Australia's only all-natural coccidiostat.
"We haven't lost a calf since introducing it, and that doesn't usually happen," Russ said. "So [for me], it's too risky to go back to not using it."
The vet behind BioCalf, Dr Robyn Plunkett (BVSc) says the product represents the next generation of probiotics.
"Farming is so intense nowadays that calves are exposed to more harmful bacteria than ever before," Dr Plunkett said.
"The traditional rates of probiotics in milk are no longer relevant in modern calf-rearing practice. That's why we've included more than double the level of probiotics in BioCalf over every other current product on the Australian market, because there is now no denying that healthy calves become highly productive cows."
KEEPING IT CLEAN
The White family is also sold on popular European shed sanitiser Stalosan F. The Danish product, which tends to have been underrated in Australia, has a pH
below four. Its non-toxic powder works because it includes high levels of copper and iron oxide, which are both well-known antimicrobials; the unique combination of minerals binds up to 100% moisture where ammonia is present.
Combined with biodegradable Germidet detergent and sanitiser – a non-irritant, biodegradable germicidal detergent and general disinfectant for cleaning, sterilising and disinfecting – the calf-rearing circle at Dilee Holsteins is complete.
HIGH QUALITY COMPONENTS
• All milk-carrying components are made of high quality stainless steel or food-grade materials.
• The milk powder system, including its powerful auger, is designed to sustain high loads and strains, therefore can correctly dose nearly all milk powders.
• The whole milk system is extremely effective due to a 7.5-metre-long heat exchanger coil.
• The electronics design has been kept simple and reliable, to withstand the harsh conditions.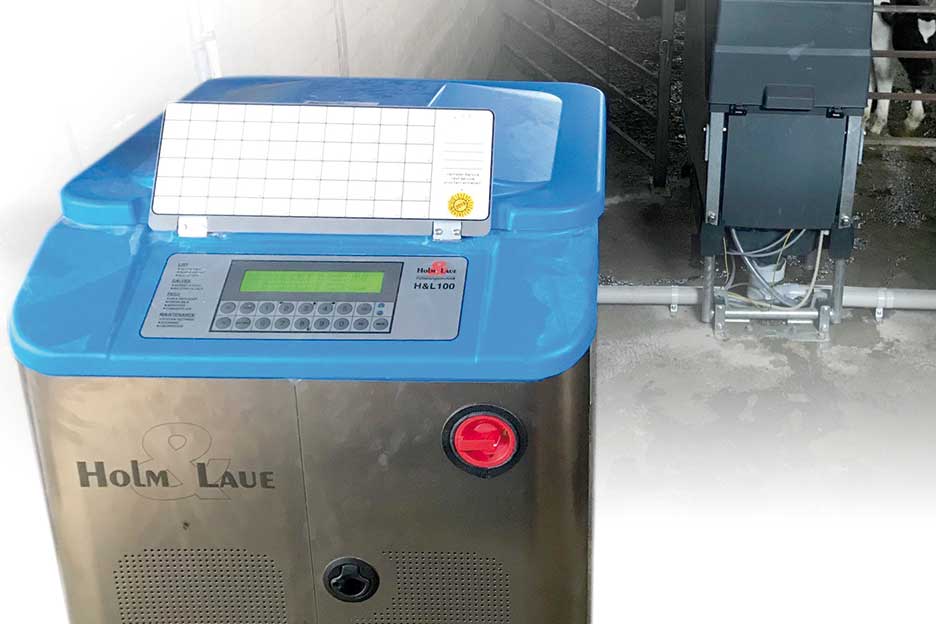 > A truly Automatic Calf Feeder feeds calves individually - automatically increasing milk (as the calf grows) or gradually decreasing milk (towards weaning) according to your wishes. And, importantly - it washes itself. If you have to pull apart your feeder to do a system wash, then it's not automatic.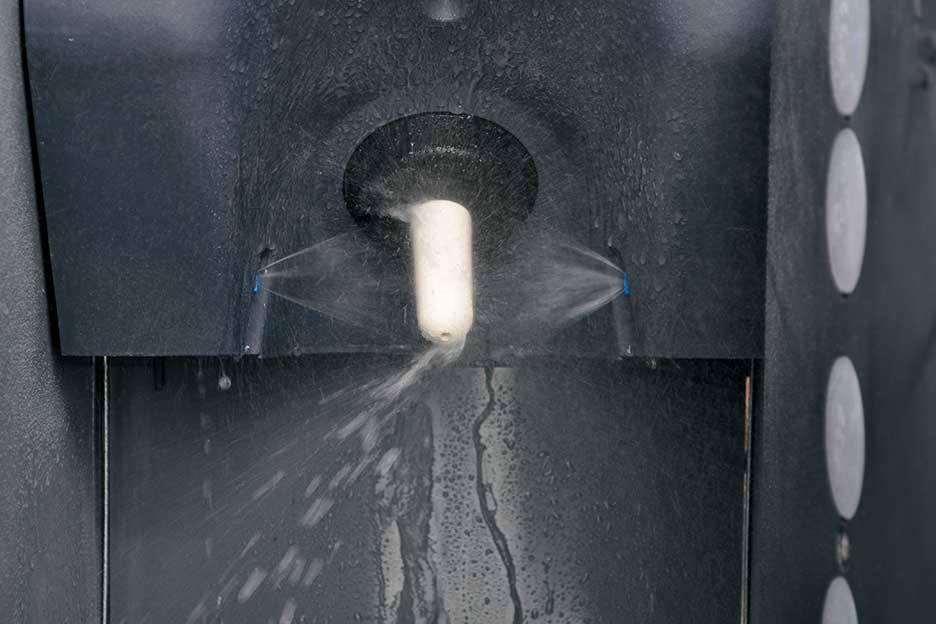 > The HL100 feeder and new hygiene stations:
Allow up to 150 calves to be fed individually (or in groups)
Allows set feeding curves and weaning programmes
Rinses the milk line after every feed
Fully Automatic Wash cycle twice daily (acid & alkali)
Rinses the teat and bowl after every calf visit
The large powder hopper holds 50kg of milk replacer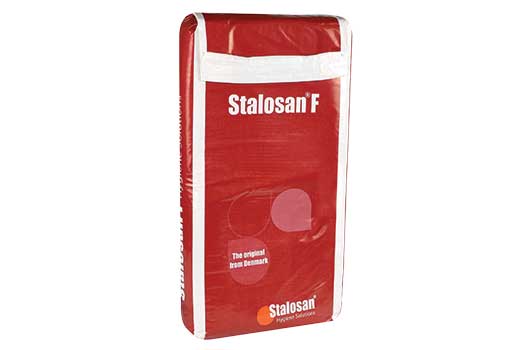 STALOSAN F
Broad spectrum, natural disinfectant powder for animal housing.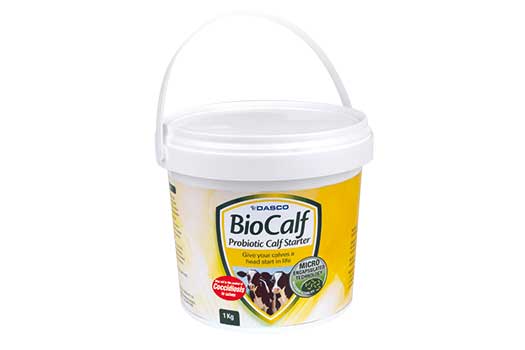 BIOCALF
Double-strength probiotic powder milk additive that supports calf health and growth.