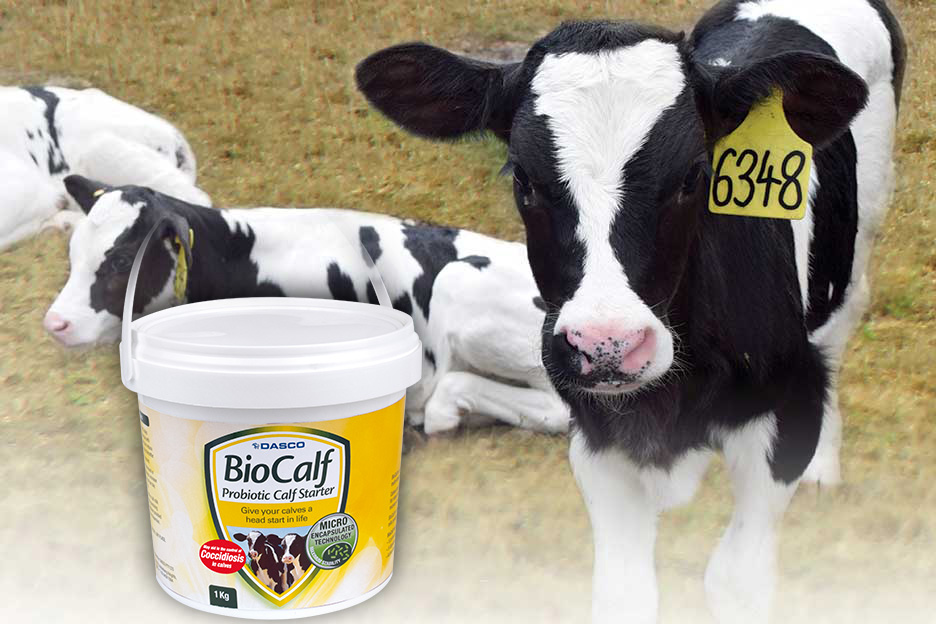 Hooper Farms has eliminated antibiotic use in its calf shed after introducing a potent new probiotic range to its Gippsland operation.
The sizable family operation milks 1500 cows through three dairies on 1416 hectares (3500 acres) at Winnindoo, near Heyfield. Aside from rearing 1300 calves a year, the family grows crops, farms 400,000 chickens, and owns and operates a quarry. The busy group is headed up by John and Chris Hooper, together with their sons, Brendan and Nick, and Nick's partner, Elly Baranowski.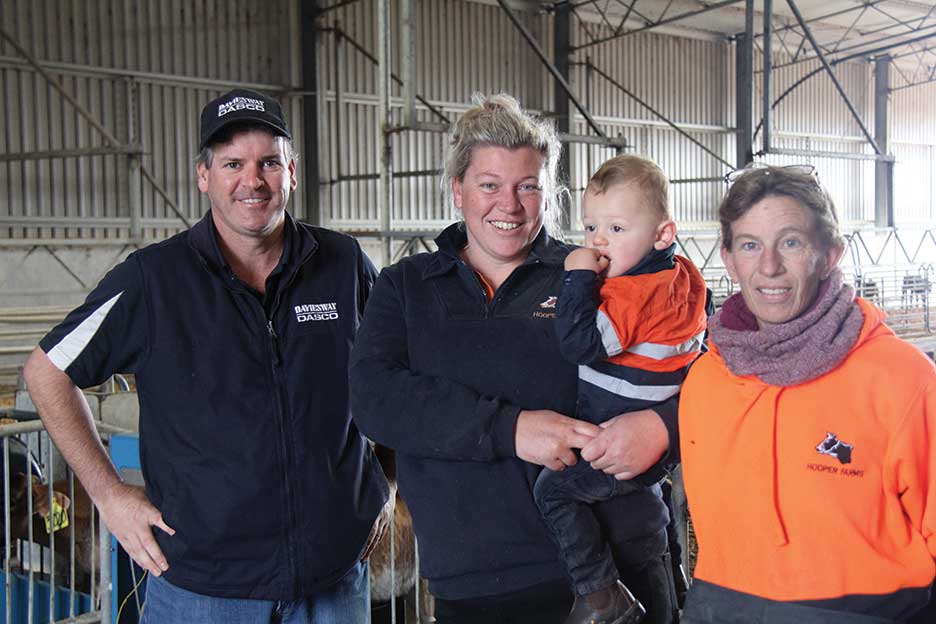 > Pictured from left, Brendan McGrath (Daviesway Manager - Leongatha) and Elly Baranowski, from Hooper Farms, with her 16-month-old son, Arlo, and staff member Tania Hague.
STRUCTURED CALF REARING
The calves are reared in a purpose-built shed that's 21 metres wide x 54m long, with three Holm and Laue automatic calf feeders and 12 feeding stalls. The shed design allows for new calves to spend their first three days being hand-fed before they join a small group as they learn to master the automatic calf feeders.
The calves' next step is to join a bigger group with indoor/outdoor living and access to lucerne hay and ad lib grain. At this point they are separated by breed and size into three groups: Holstein, Angus-Holstein cross, and Jersey and smaller Jersey-cross calves. The calves in those respective groups will stay together (for continuity and social stability) until they are three years old - when they join the mature herd in the main dairy (a 50-stand rotary), or the Jersey herd on another property.
OPTIMISING FEED - CONVERSION RATES
Elly manages the calf pens and says they started using BioBoost probiotic paste and BioCalf probiotic powder at the end of last spring, because it was a tough season to find quality feed, and they wanted to make the most of the calves' feed-conversion rates.
Of the 300 calves they reared in that batch, just three died.
The H&L automatic calf feeder has the capacity to mix additives (such as probiotics) automatically through a dispenser into the milk, ensuring an accurate dose in the daily milk ration. And, as the daily BioCalf dose is so concentrated [1gm per calf per day] the 1kg capacity dispenser on the H&L holds 1000 doses, before it needs to be refilled.
Elly says their decision to use both products was because she resonated with the science, the progress in the probiotic space and the tightening focus on antibiotic use. BioCalf offered her double the colony forming units (CFUs) of its nearest competitor, along with five digestive enzymes and active live yeast; it was the only product to include an extract from the plant Yucca schidigera, which helps control coccidiosis.
All calves were given an oral dose of BioBoost paste when they entered the calf shed, along with their colostrum, which was tested for quality with a refractometer. They also fed BioCalf probiotic powder in the calves' milk until weaning at 100 days.
ELIMINATING ANTIBIOTICS
"I think they'd been on the probiotics for a week, when I drove past and I really noticed how their coats were starting to shine, and you could just see the difference," Elly says. "It was crazy.
"Now we've gone away from using any antibiotics on the calves that have scours, and replaced that protocol with the daily addition of the powder in the milk, supported by an oral dose of the paste if they look unwell.
"Honestly, I can't say a bad word about the two products. We're definitely putting out better calves.
"We shifted a mob of autumn calves the other day, and then went and shifted the late-spring calves that had been raised on the BioCalf, and the younger calves were just as big as the older ones."
"I didn't expect to see such marked growth in that second group [as a result of including BioCalf]."
HAPPIER CALVES
Elly has also noticed several small changes in the calf pens that gave her additional confidence.
"The calves seem to be playing with each other more, because they just seem to have more energy, and they just seem happy within themselves."
The probiotics have completed a circle and given the calf-rearing team confidence on the big operation.
SANITATION KEY
To help sanitise pens during the calf-rearing season, Elly says they use popular Danish sanitiser Stalosan F, which tends to have been underrated in Australia. The product has a pH of below four, and its non-toxic powder works because it includes high levels of copper and iron oxide – well-known antimicrobials. The unique combination of minerals binds up to 100% moisture where ammonia is present.
"Our sanitising products go twice as far for half the price of the competitors and we get the same kill," Elly said.
Hooper Farms is poised to fit cleaning stations to the automatic feeders as the final piece of the hygiene puzzle.
Elly and valued staff member Tania Hague spend roughly two hours a day feeding their calves. It's a welcome change from the physicality of the workload they used to shoulder.
"We wanted to do the best we could for the calves and everything we have in place now requires a lot less physical work, and it's far more rewarding because we're now getting the results we want," Elly says.
"Calves grow faster, and appear to have more energy to play and interact with each other since BioCalf and BioBoost was included in their programme." – Elly Baranowski.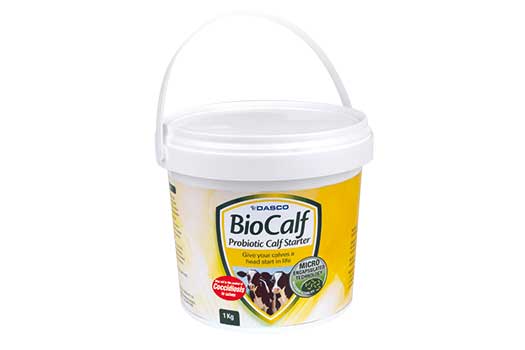 BIOCALF
Double the strength of standard probiotic powders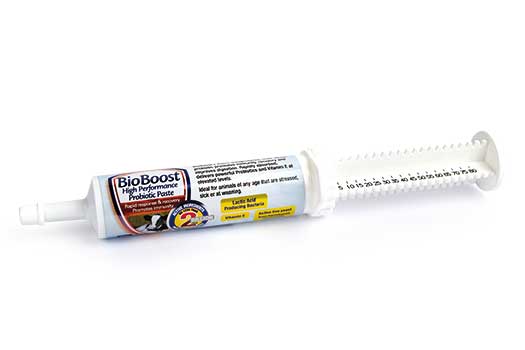 BIOBOOST
40 times more concentrated probiotic paste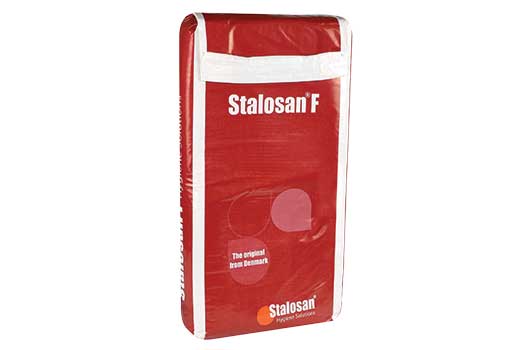 STALOSAN F
• Broad spectrum, natural disinfectant powder for animal housing.
• pH below 4, and includes high levels of copper and iron oxide - well-known antimicrobials.
• Binds up to 100% moisture where ammonia is present.