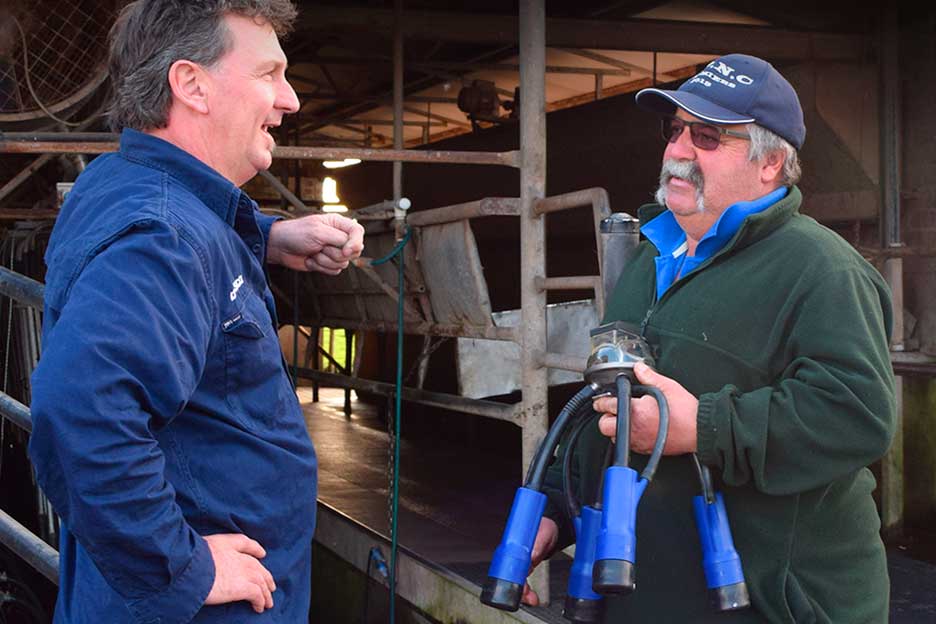 "I know our dairy is getting older now, but making sure our liners and clusters are sorted makes extending its working life possible." Colin Haberfield (pictured right with Daviesway's Glenn Wright).
Colin and Tracy Haberfield dropped their bulk milk cell count (BMCC) from routine peaks of 200,000 down to an average of 80,000 with just one change.
The operation milks 240 cows at its peak for an 8000-litre average through a 20-a-side herringbone swingover on 121.5 hectares (300 acres) at Mepunga East, in western Victoria. They have a 40.5ha (100-acre) out-paddock that's 1.5 kilometres from the home farm, and lease another 40.5ha.
Their son Christopher, a qualified builder, returned to the family farm four years ago and today takes a lead role. Colin and Christopher also enjoy the background support of Colin's parents, John and Margaret.
The dairy was built in 1994, and the pair recently started talking to Daviesway's technician Glenn "Magoo" Wright, who is based at Koroit, about their options to update their liners, clusters and claws.
OPEN TO NEW IDEAS
Colin had begun to feel fatigue in his shoulders – the toll of wielding their older, heavy clusters. And, while their BMCC was still solidly in premium grade, they were open to new ideas.
Magoo recommended they consider switching to Milkrite liners and shells.
Colin said they knew "Magoo" was genuine, and that he wouldn't recommend anything he didn't believe would work. Christopher had heard of Milkrite, and was curious. Colin was a little more sceptical.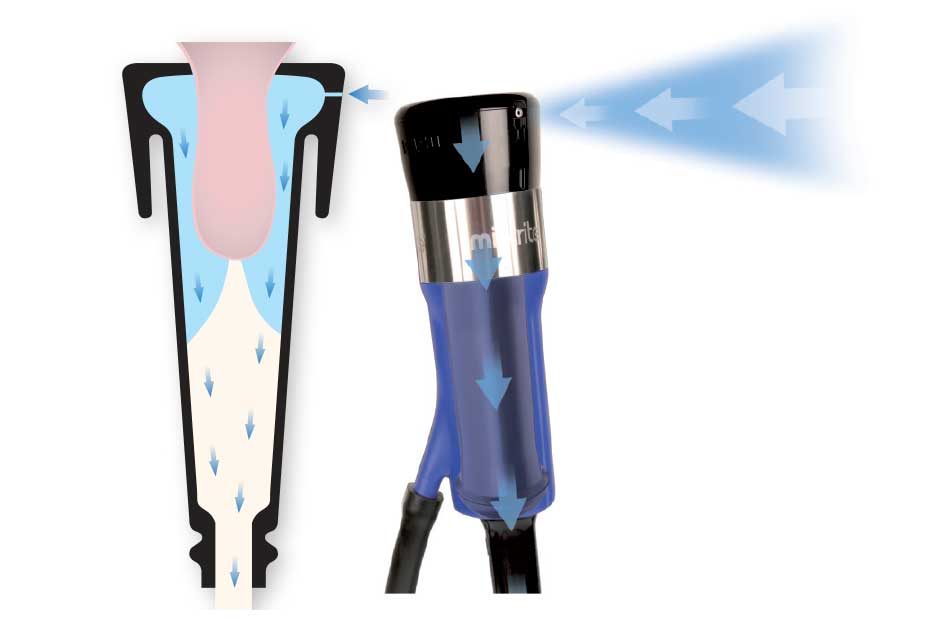 • Air enters the system through a calibrated stainless steel air vent in the liner mouthpiece – safely above the milk
• Smooth efficient airflow eliminates milk reflux and forces the milk in one direction – away from the teat end
• No cross-contamination = less mastitis & lower BSCC
• Mouthpiece chamber vacuum is lowered – limiting cup crawl, maintaining peak flow rate, and eliminating teat ringing
THREE-WAY SCIENCE LOGICAL
The marked point of difference in the triangular Milkrite liner science is that the pulsation pressure is evenly distributed on three sides of the teat, making it gentler on teats while lowering BMCC and promoting teat condition. 
In addition, the Milkrite's air vent (which is positioned in the mouthpiece at the top of each liner, instead of the claw), introduces air above the milk-flow, eliminating splash-back, cross-contamination and making cluster removal gentler.
Colin said, "We were looking for a change. I'd had trouble with my liners because they kept splitting, and I had an odd size cup and claw, which I didn't realise at the start of the conversation. We also had some cup slip, and I wanted a cluster that was a bit lighter because I had a crook shoulder."
"Christopher had been looking at Milkrite for a while, and he knew of a couple of blokes who had them and liked them, so we decided to give them a go. There wasn't any great science behind our decision. We'd read about them, and they certainly sounded alright."
The Haberfields trialled several combinations, and settled on the IP15 HV Milkrite Liner and Shell within an Australian-manufactured Daviesway Tech-Line claw.
Gentle three-sided massage of the teat during milking process.
BMCC PLUMMETS
Colin said he was surprised by the dramatic improvement in their BMCC.
"Magoo said they will lower your BMCC, and I was thinking, 'Oh yeah, I've heard this before'. But he's not the guy who tries to flog you something just because he can. And, to his credit, they did exactly what he said they'd do".
"In the last couple of months, our BMCC has been consistently in the 80,000s and as low as 75,000, and we've made no other changes to the dairy. We have the same guys milking in the same dairy, with the same teat spray, the same tracks, and the same paddocks. There is literally nothing different going on, outside that it's now got wet and the BMCC challenge should be higher because of the mud."
DREAMY CLUSTERS
Christopher said the light-weight clusters were a "dream" to work with, and the milk out was arguably better now.
He also noticed something else.
"The teats seemed to be dry when the cups come off," he said. "Because the air hole is above the outlet of the teat, so the whole process seems much cleaner and any cup-slip has been eliminated. We've always had pretty good teat condition and that hasn't changed."
DETAIL OVER 'BELLS AND WHISTLES'
The well-known former sportsman, who is one of three in the Haberfield lineage to be awarded Life Memberships at the Nirranda Cricket Club, is also committed to local football in the area. And, just as in sport, detail and commitment is important in their dairy: the Haberfields change their liners every six months – without fail.
Colin said, "You can build the biggest, shiniest, brightest 'bells and whistles' dairy in the country, but really the only part of that dairy that has any direct contact with the cow is the liners".
"It's no good having a flash vat, the best wash system, and the biggest, shiniest yard if your inflations are in poor shape.
"I calve six months apart in February and August, so it makes sense to use that as an easy reminder to start every calving with new liners.
"I know our dairy is getting older now, but making sure our liners and clusters are sorted makes extending its working life possible."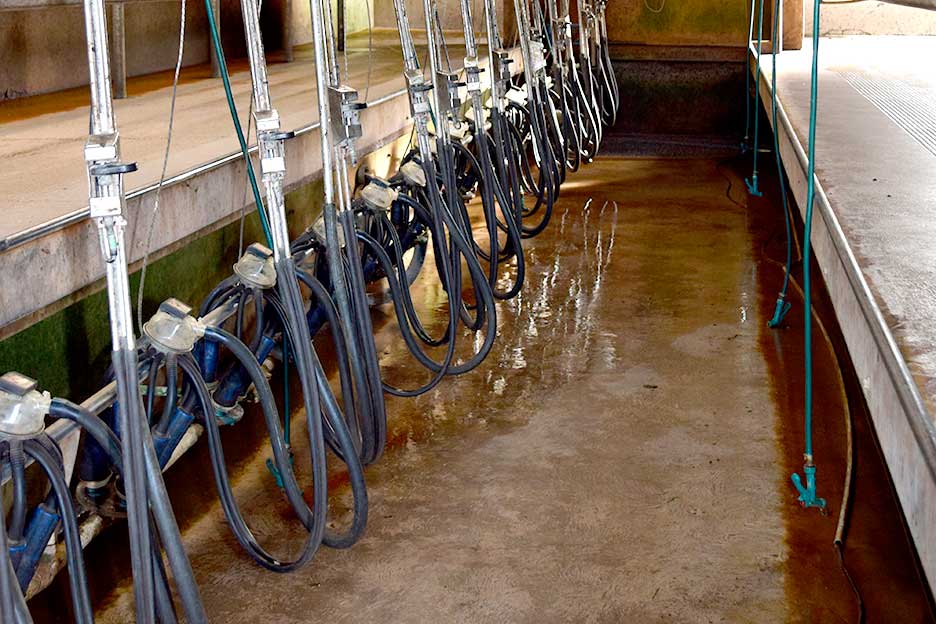 Footnote: 40% of US dairy farmers and five of the world's biggest dairies are now using the Milkrite technology.