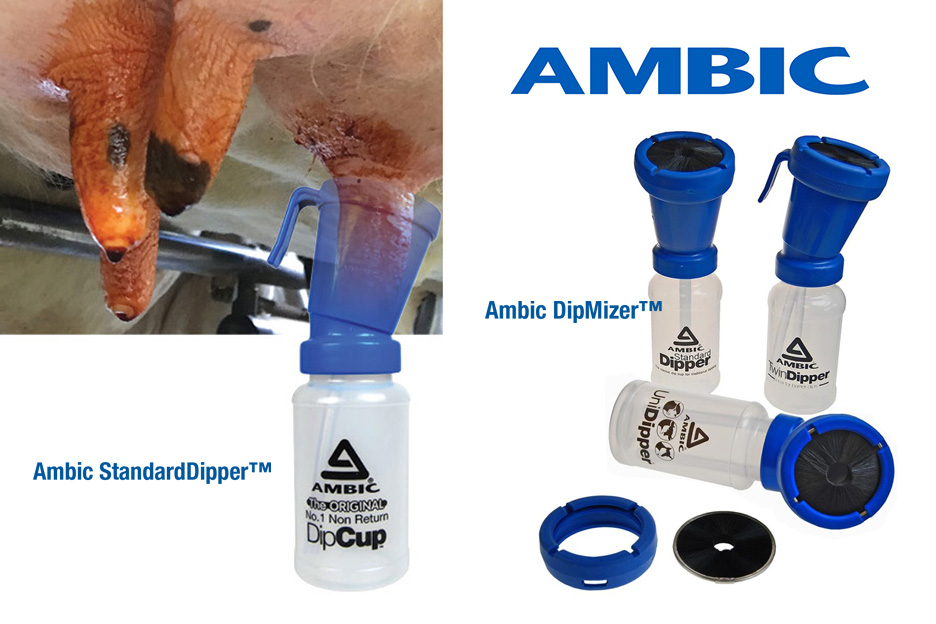 For Ambic Standard Dipper, Standard Dipper with Non-return valve and DipMizer products. Click here
Australian dairy farmers have a golden opportunity to slash their post-milking teat disinfectant costs.
DASCO Industrial Chemist Hamish Hunt says there are some very real savings to be made – among other advantages – if farmers choose to dip rather than to spray teats post-milking.
80% OF THE WORLD DIPS
Interestingly, 80% of the world's dairy farmers dip, rather than spray. Yet, conversely Australian dairy farmers predominantly spray – with the notable exception of the country's biggest single-site dairy, Moxey Farms.
Hamish says, "The stats for dipping is that it takes about 10 millilitres of teat disinfectant per cow. With hand spraying, typically the target volume is about 20ml – so 100% more chemical than dipping.
"That's because the spray pressure may be set too high, the operator might pull the trigger and keep going, or they don't actually look at what they're applying – which is more common. I've seen the backs of udders and tails sprayed. It can involve a huge amount of extra volume – more than 70ml/cow in some instances. To put that into perspective, you could spend up to $9000 more a year on chemical if you are spraying rather than dipping [in a 500-cow herd].
"And, with floor-mounted systems on rotaries that have directional sprays, there is an assumption that every cow is the same size. But, a cow in her third or fourth lactation is bigger than a two-year-old, and that naturally changes how far forward or back they stand in the bail."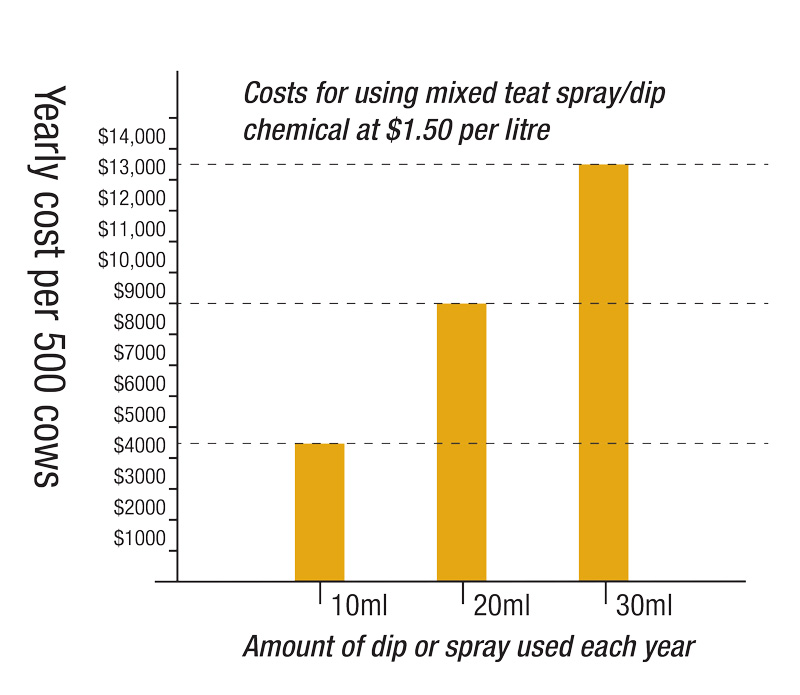 CONSCIOUSLY 'LOOKING'
Hamish says there is also merit in dipping, because it encourages the dairy farmer to consciously engage, and check their cows.
"Because we are culturally always in a hurry, we often don't think about these things," he said.
"And, if you are looking to get more production out of less animals, it's important to pay attention and see what is going on with them.
"I think this is especially important in Australia, because most of our dairy farmers don't prep udders – they strategic wash – so there's next to no inspection at cups on. It's literally 'cups on'.
"But as part of your finish at cups off, if you dip every cow you also have to look at, and focus on, every teat. So, you're more likely to see whether she has been milked out properly, or [for example] if she is in the early stages of a mastitis infection.
"Getting on to any health problems early is a cost-saving in terms of medication/vet costs and potential lost production or compromised fertility."
80% CAN'T BE WRONG
The other good news is that dipping cups are inexpensive – and easy to get hold of.
"There seems to be a feeling in Australia that dipping is somewhat old fashioned, slower and something that our grandparents did a long time ago.
"The reality is, dipping gives you a significant advantage in being able to control the dip solution on the teat, with the added opportunity to consciously inspect the animal post-milking – while saving a significant amount of money on chemical doing it."
For information please click here.