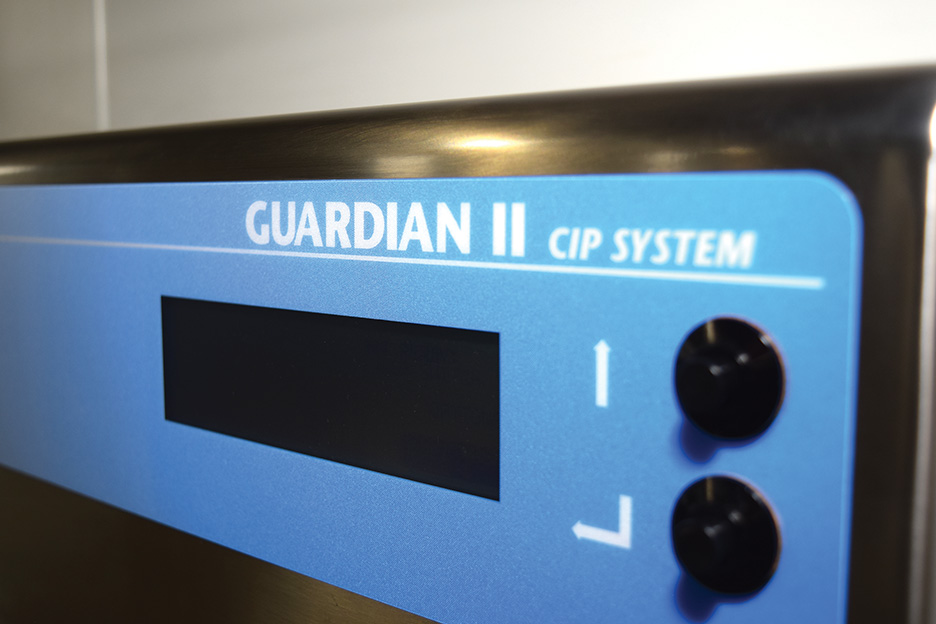 For more information about the Boumatic Guardian ll - CIP Auto Wash System. Click here
The devil is always in the detail when it comes to achieving premium milk quality.
And, several key factors at the end of milking – during the wash cycle – drive a big part of that result.
Yet it doesn't have to be hard, complicated or time consuming, because technology makes it possible to achieve the sanitation and safety features that busy dairymen deserve. It's all in the Boumatic Guardian II™ automatic wash system.
Bruce said the Boumatic Guardian II™ has the jump on other automated inline wash systems in the market for several simple, logical reasons.
Among them is that the BoumaticGuardian II™ is manufactured by global dairy manufacturing giant BouMatic. The US company has included unparalleled programmability within an easy-to-use system that also features temperature and time control systems with alarm feedback.
'SATURDAY MORNING FOOTY' WASH PROGRAMME
"I think the biggest thing for me is that BouMatic got the design right from the start," Bruce said.
He said the functionality is a standout, while the interface is very simple from a day-to-day operator view.
"At the front it's just got two buttons – an 'up', and a 'yes'. But its biggest feature is the customised programmability. "It's got five different customised wash cycles you can set up, and in each of those wash cycles you can have up to eight or nine different steps. So, you can almost make it so that wash cycle five is the 'running out the door on Saturday morning for footy sort of thing', and the Sunday morning is going to be the comprehensive wash. That's the flexibility of it."
During washing, the system controls the hot and cold water valves, the recirculation valve, the dump valve, the peristaltic detergent pumps and the air injector.
It also includes a safety switch at the wash return line so that it doesn't operate until that connection is made.
"It's got auxiliary outputs, so it will turn all the components you want on or off. It adds the detergent at up to 600 millilitres per minute and it monitors temperatures. It will run the perfect wash every time."
Bruce said almost without exception, every new Daviesway dairy build or retrofit includes the Guardian II™ auto-wash system.
"The automatic checks and alarms are also really valuable. If it runs out of water, if the wash cycle is taking too long, if the water is too cold, it will trigger an alarm and you have to acknowledge that alarm before you operate the system again. At the end of the day, that's what it needs to be able to do."
He said other systems are often too rigid in their programming.
"What you actually end up doing with those systems is struggling to find the closest wash cycle to what you actually want.
"So, it's always a compromise. With the Boumatic Guardian II™, you tell us how you want to wash your dairy, and we'll make it wash."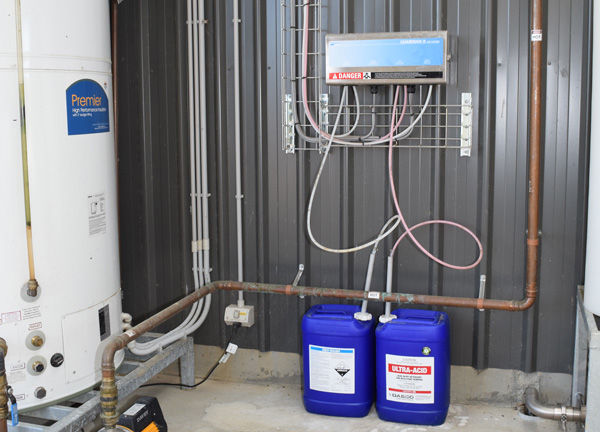 CHEMICAL SAFETY
Another advantage in the Boumatic Guardian II™ system is that it features an electrical module and a pump module."Which means you can put the pump module out with the chemicals, and then it's stored and out of the way.
"You're not then trying to put two modules in the one area or sucking chemical a long way. Because as soon as you start sucking chemicals from a long way, it deteriorates pumps.
"It also means that employees are not working around high temperatures, acids or alkalis. The automation is taking care of all that sanitation cycle, and a staff member's time can be better used somewhere else."
Bruce does caution that – as with all automation – operator observation is still important.
"I think the mistake everyone makes with an auto-wash system is that because it's a push-button – and you can walk away – that it doesn't need to be checked regularly. You do still need to make sure all the jetters are working, and that all the clusters are getting water through them. It doesn't have to be every milking, but you do need to do it."
Price is always a consideration when it comes to a new addition to any dairy.
"My answer to that, is 'what are you actually trying to do?'. If you're trying to wash your investment correctly every time, an auto-wash system can be pretty cheap when you consider the potential counts and subsequent penalties. You're investing in something to look after the hygiene in your plant, and you've got to know that it's working the way you want it to.
"If I owned a dairy, the game-changing advantage of the Boumatic Guardian II™ for me would be that I could wash the plant the way I wanted to, rather than the way the manufacturer believed that I should."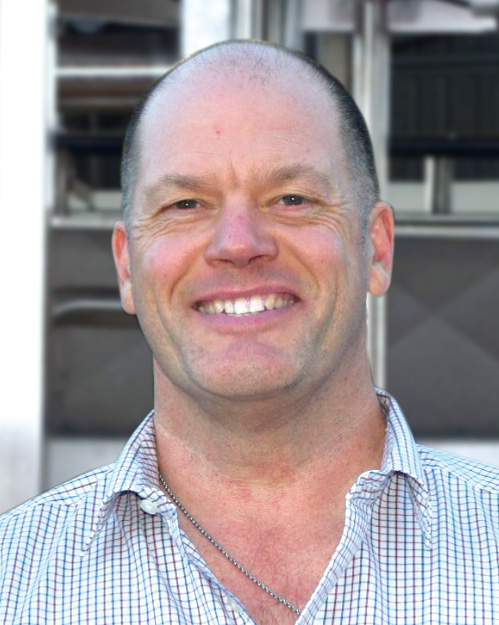 BRUCE TREBLE – Daviesway/DASCO
Mobile: 0418 549 494
Email:

Sales Manager Bruce Treble has been with Daviesway for 25 years, and is one of the company's anchors. Having always specialised in milking machinery, today Bruce also oversees all capital equipment, quoting and technical information.