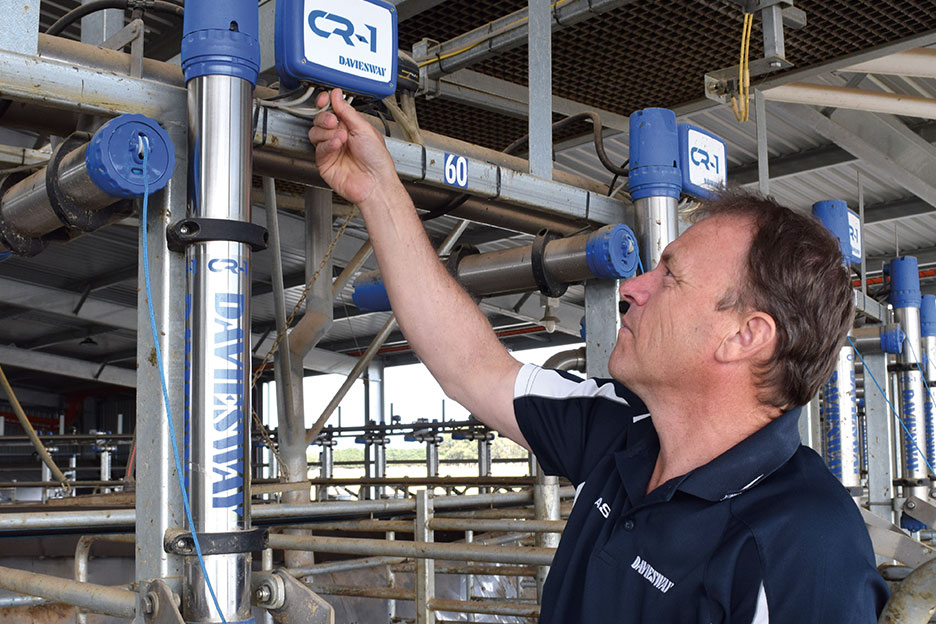 Nico Polato checks out Daviesway new CR-1 Automatic Cup Remover
Building a new dairy is a critical decision for any dairy farmer.
That's because the triggers to break new ground for a multi-million dollar capital investment in concrete, steel and technology also has the power to make or break a property's function or sale, depending on personal variables.
All of which can't be overstated enough, according to a man who's seen everything there is to see in this space – Daviesway's Specialist Dairy Projects manager, Nico Polato.
Nico says no one builds a new home without extensive plans and budgets, yet he still sees enough dairy operations pushing ahead with a new build, based on a design scribbled on the back of a cigarette packet.
And, he says that in today's market – if you're failing to plan, you're planning to fail….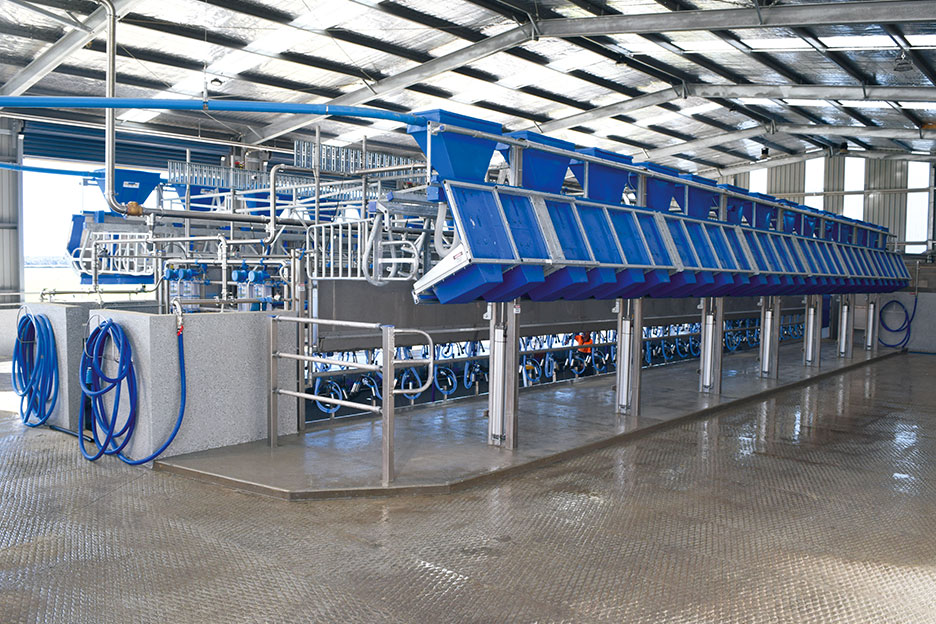 Vuillermin Pastoral Co's 28-bail rapid exit herringbone (Yanakie, Victoria).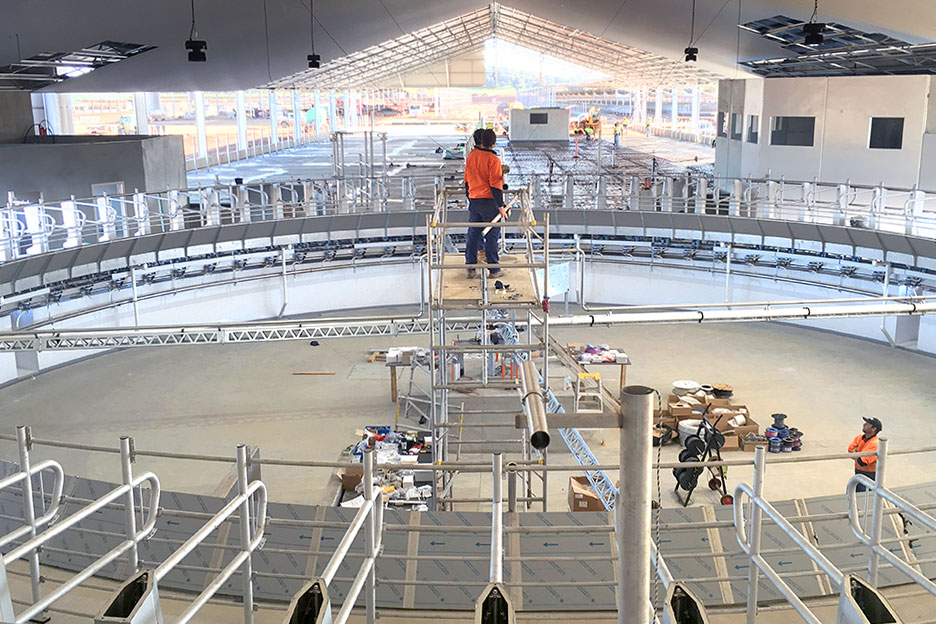 An 80-unit rotary dairy at Australia's largest single-site dairy, Moxey Farms (Gooloogong, NSW).
Daviesway's Special Dairy Projects manager Nico says his job typically is to challenge clients, so they make the right decisions and get the right result.
Having been with Daviesway for 17 years specialising in dairy builds, he said there are key questions that he always feels a responsibility to ask for his customer's sake.
"There are some outcomes you can't predict, but a lot that you can. You've got to really think about this investment being for a minimum of 10 years," he said.
"And ask yourself, 'What is your five and 10-year business plan for the farm?'.
"Because if you're thinking of putting a rotary dairy on here 'because that's going to make you a lot of money', but you haven't got any succession or business planning, or a master farm plan in place; or you think you might sell it up in two years because you'll realise all this capital gain … you're nuts.
"Save your money, and go and buy an apartment down by the ocean."
Nico said succession plans could revolve around the potential to buy neighbouring farms, progressive takeover strategies, production increases or expansion plans.
"We really drill down to what our customers want to achieve, because a new dairy build is a significant investment, and, we want our customers to be really comfortable with that decision."
DESIGN AND PLANT
Nico said the Daviesway team has always been about their customers first, second and third. Once the decision is made to build, the question then turns to whether it should happen on a fresh site, or if it's going to be added on to an existing location.
"And, then we start looking at design criteria until a client puts their finger on a particular plan and says, 'Yep, that's what I want'.
"From there, we start to qualify how we're going to achieve it. That's the easiest part of the whole process. Daviesway has a whole supermarket of milking equipment, which our guys have hand-picked, because we believe in the products and the people who manufacture them. We also have our own manufacturing team, which gives us other options as well.

Rick Boyes' employees saved $330,000 on a new 24-a-side swingover herringbone after some smart planning with Daviesway.
"People want choice. I have worked for a branded company, and we can offer that. However, we can also offer an alternative, because sometimes you find yourself trying to fit a square peg into a round hole as far as the outcomes might be for that equipment, software and technology.
"With the options we can put forward, I believe our clients end up arriving at a sensible, commercial, hard-working low-maintenance package for their farm."
PLANNING THE MOST COMMON MISTAKE
Nico said there is one thing - if it isn't done right - which threatens the success of every dairy build.
"Planning, planning, and planning.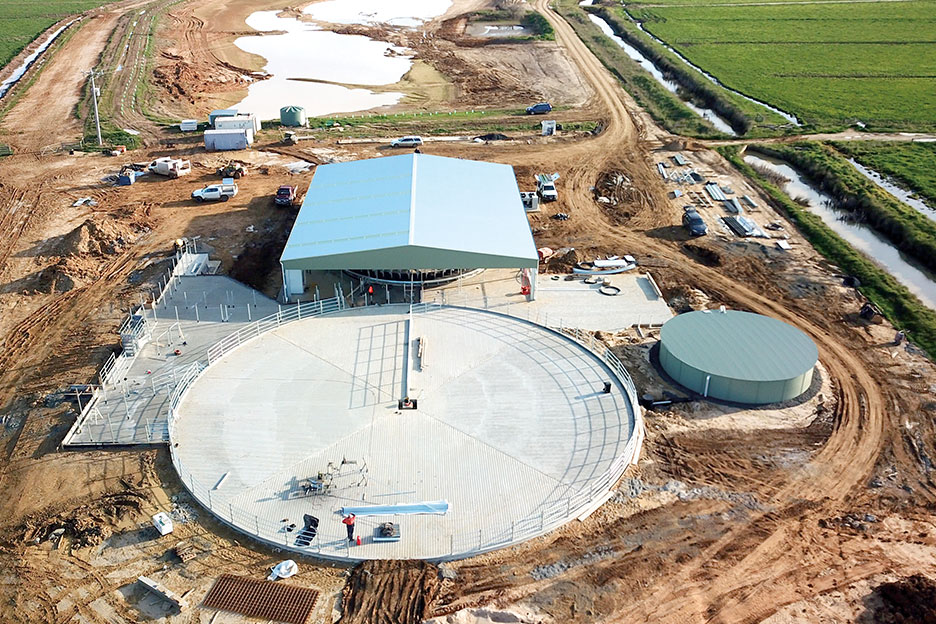 Once the decision to build is made, the next choice is whether to do it on an existing site, or to break new ground.
"It's that simple. "It's a multi-million dollar build. When I go into my client's homes, I often compliment them on their home, and I ask who built it for them, how long the planning and building took? And, if they had plans drawn up for it? They usually say it was an award-winning builder, yes they had plans, and it took five or six months to complete.
"Well, they're talking about spending four times that amount on their dairy, and you can't build it off a scribble on the back of a cigarette packet. It's a big thing, and it starts and ends with the planning. "If that is done correctly, everything can flow along really nicely. And, you don't have to deal with the budget blowouts, permit blowouts, or when you realise you can't get power to the farm, or you can't get a power upgrade. All that pre-planning detail is vital and that's what I do for people within my role.
"Essentially it's one of the biggest – and most underestimated – parts of any new dairy project. Along with the budget.
"When you do the planning, there are no nasty surprises."
WHY PROJECT MANAGEMENT?
Nico said whether Daviesway's clients can choose to have a project manager or not; it depends on the client and their personal situations.
"We deal with some farmers who will say, 'Call me when it's finished'. Right through to others who have the time, are interested, and who want a more owner/builder hands-on experience, and they are comfortable interpreting the plans.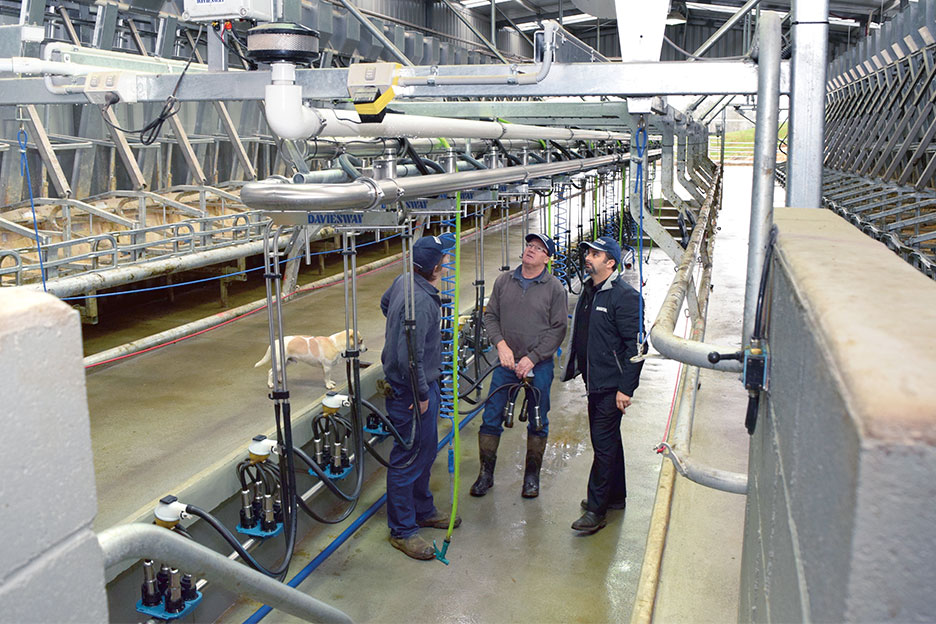 Daviesway's Warragul branch manager Greg Lechte (right) checks in on a new dairy. Greg has been with Daviesway for 18 years.
"However, we aren't professional farmers, and I couldn't think of doing what they do every day."
He said most likely, they are probably only going to build one dairy in their lifetime.
"If they asked me to run their dairy for a week, it would be interesting to see what they came back to.
"If you want to build a dairy and run a farm, I would suggest that something is going to have to give.
"In the past, I've seen profitability, productivity, breeding programmes and cow health that have gone wrong because it just doesn't work to run a farm and project manage a dairy build simultaneously.
"The guys who want to be involved and be hands on can still do that, but I'd always advise them to make sure they have the right people around them, so things still get done on the farm."
MECHANICAL, ELECTRICAL AND PLUMBING
A full set of technical specifications surrounding the mechanical, electrical and plumbing areas are completed before the first shovel breaks ground.
"In the plumbing there are eight different sections – commercial, industrial, trade-place, effluent, draining, hot and cold licence plumbing, and septic systems.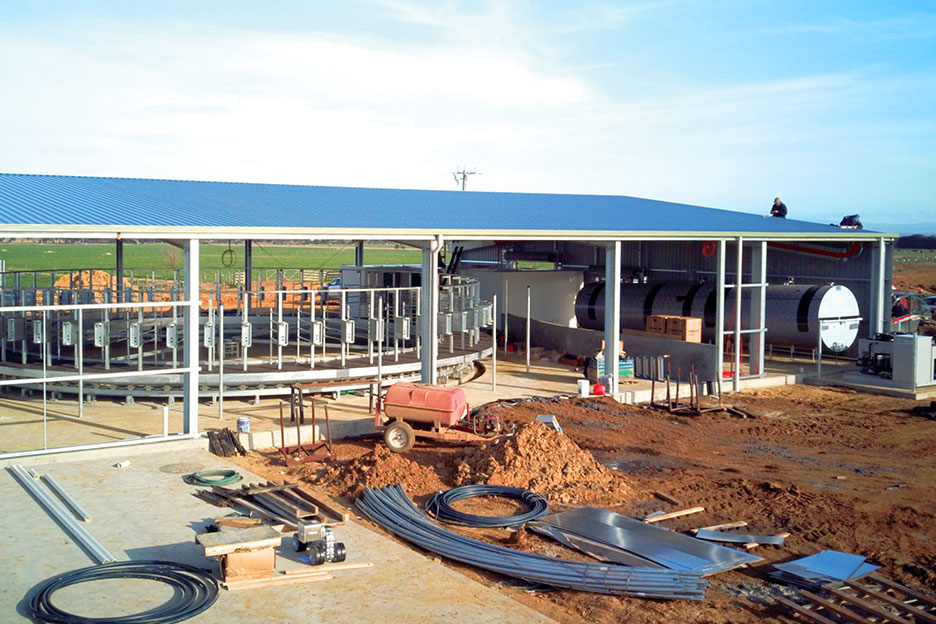 With a plan, the contractors have a detailed script to follow.
"The plan will show, for example, a two-dimensional view of where the toilet is. Part of my job is to detail every electrical point, underground point, pre-concrete and post-concrete points, mechanical and electrical points.
"It's so the contractors have a script to follow, and we can ensure that those milestones are met at the critical points and times, and nothing is missed."
BIGGER NOT ALWAYS BETTER
Nico said his focus is to get top qualify milk into the vat out of cows that are comfortable in the dairy. Perhaps surprisingly, sometimes that involves choosing a smaller, rather than a bigger, dairy.
"The bigger they are, the faster they turn, and the less time you have to deal with the cows. There are a whole host of factors that come into play when we talk about dairy size.
"Because you can run a brand new dairy, and still not get great results. I've seen many 60-stand rotary dairies outperformed by their 50-stand counterparts.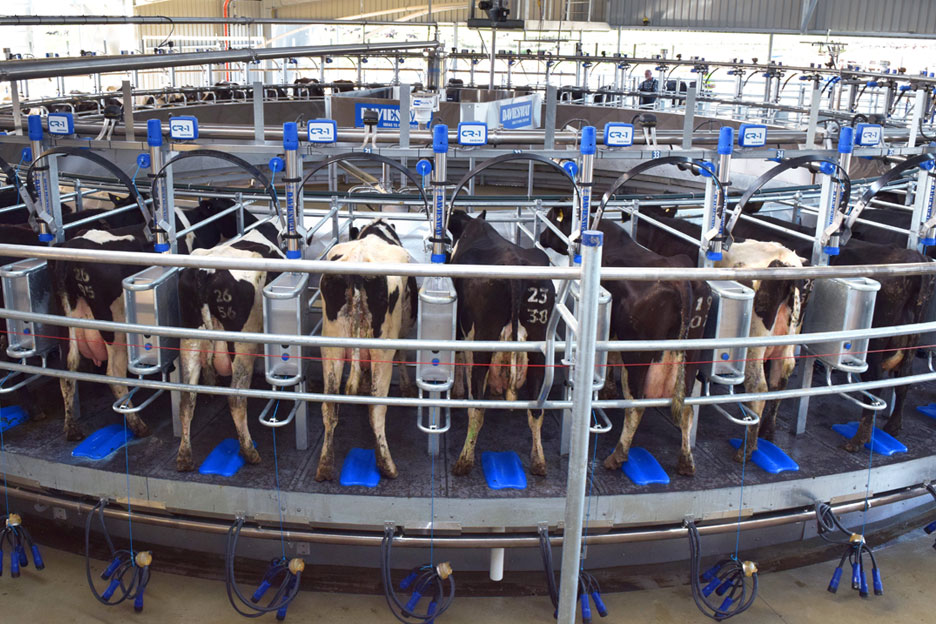 Rotary Dairy
"A new dairy's purpose is to provide a first-class facility for the animal and the operators. "We're aiming for a cool, calm environment for those cows. So, that as soon as they step onto the platform they are dealing with oxytocin, not adrenaline."
TWO MOST CRITICAL THINGS
Nico said achieving that also includes management, so dairies are getting the most out of the technology at the ground level.
"We recommend SOPs [Standard Operating Procedures], and we put up laminated wall charts for the operation of the equipment. And our technicians are always promoting best practice in the dairy, and looking at the triggers and points to watch for.
"For example, recommending that the cups-on operator stands four to six positions around from where the cows step onto the platform, so their grain drops before the cups go on, and they immediately let their milk down."
Nico said one of the things he does recommend is Milkrite liners. He first saw the technology in the 1970s, and believes Milkrite has refined the triangular moulded plastic shell to a game-changing standard. It features a revolutionary mouthpiece-vented triangular liner, which introduces air above the milk-flow. It stops splash-back and makes cluster removal gentler.
Teamed with the appropriate pulsation, Nico said it has been an incredible step forward for the industry.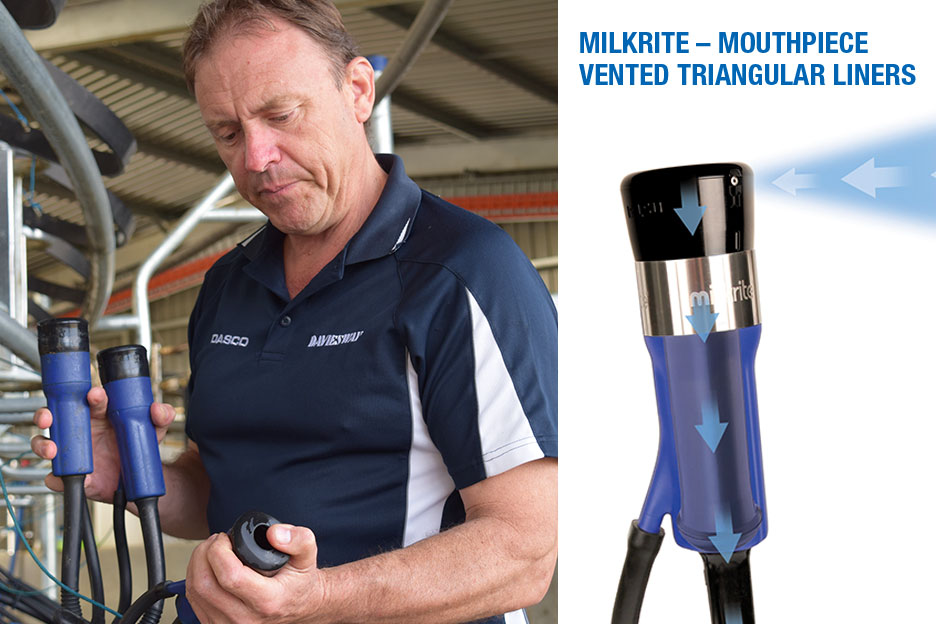 "The liner is the most important thing in the dairy – next to the cow and operator," Nico said. "All the rest of the equipment is simply milk-path transport equipment.
"We've seen the net results of this technology on so many farms in Australia, and around the world, and they speak for themselves. The improved teat condition, lowered SCC [somatic cell count] results, calm cows, less cup slippages … and the list goes on."
OPTIMUM TIME MILKING
Nico said most dairy farmers are gunning to spend no more than two hours in their dairy at both ends of the day.
"People are looking to get in and get out, and to make it a pleasant experience for the operators and the cows. And, yes, generally two hours is what people are looking at. Depending on herd size and numbers – in a lot of cases – that's what it ends up being.
"However, I don't look at how many cows you're going to milk per hour. For me, it comes down to how many litres per hour you're putting in your bulk milk tank.
"That's because it comes down to how comfortable the animals are in the dairy, how quickly, and how well they are milking out.
"All dairies have cows that are all sizes, temperaments, and different stages of lactation. You've got to have things set up for the average. Some people focus on the minority rather than the majority during the planning stages – and avoiding that comes down to training and awareness."
AFTER-SALES SERVICE
Daviesway works with a number of talented sub-contractors and service teams around the country, which means the owners of new dairies are assured of full support long after the last piece of the new build has been completed.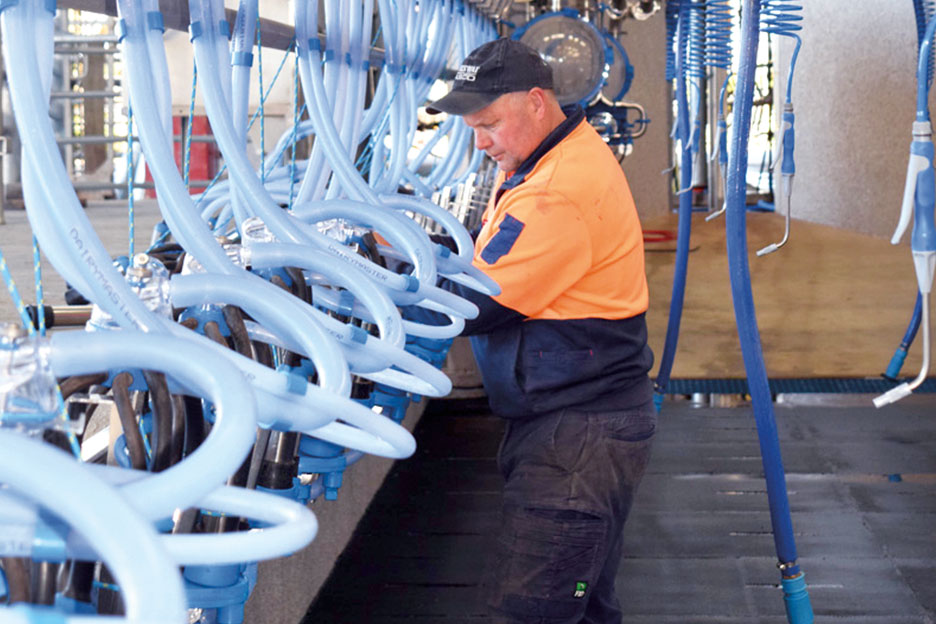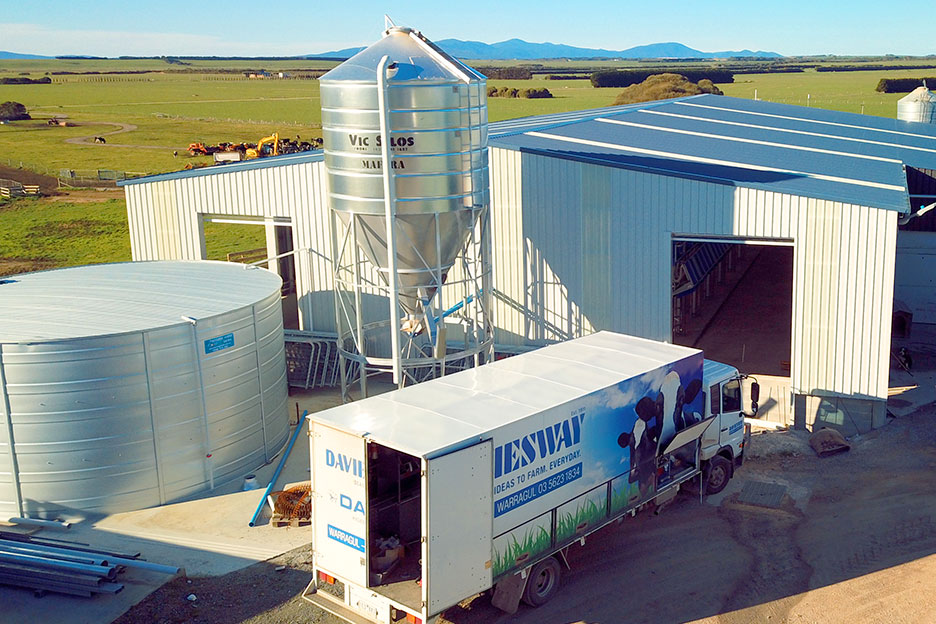 When the dairy is completed, Daviesway remains in the picture long after the commissioning has been completed.
"Our service technicians are generally the guys who will also commission the dairy. We usually have four to five working days commissioning, static and wet testing a dairy, which includes testing every system in the plant.
"Then it comes down to the dynamic testing, when we put cows through. We're there for typically eight milkings – morning and night. Funnily enough, during the commissioning phase we often find the cows settle in better than the humans.
"We automate a lot of the basic functions nowadays. But, there are still little things that go wrong. Mostly it's just reinforcing the training you've given the operators, because it can be understandably very overwhelming for them in the first few days.
Nico warns that milking isn't a race.
"We're building a dairy to do the best possible thing by your cows and your operators."
NICO POLATO
DAVIESWAY SPECIAL DAIRY PROJECT MANAGER
Mobile: 0428 517 363
Email: nico.polato@daviesway.com.au
FREE CALL DAVIESWAY – 1800 600 269