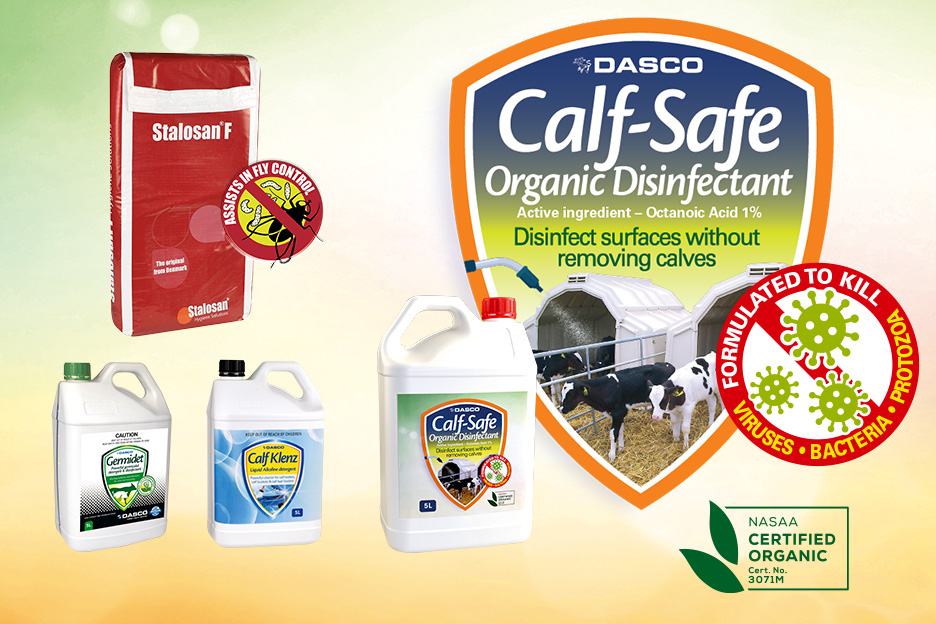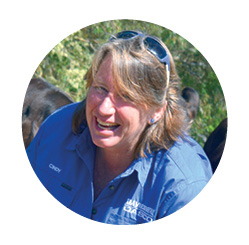 Daviesway DASCO's calf-rearing specialist Cindy Lucas is excited to see the powerful organic disinfectant Calf-Safe included in the 2022 calf-rearing range.
Calf-Safe is an Australian-made biocide derived from 100% botanical extract.
It is rated up to the strength of a hospital-grade disinfectant – standing alone as a safe and powerful germ killer.
Cindy runs "Calm Calf Contract Calf Rearing" on the Mudgegonga property (near Myrtleford in northern Victoria) she shares with her partner, Trevor Smith.
She used to rear up to 500 calves annually, although these days the numbers are much smaller.
"When I was rearing those contract-reared calves, they were brought in from up to seven different dairies every season," Cindy said. "So, I have been exposed to many different calf-health challenges along the way."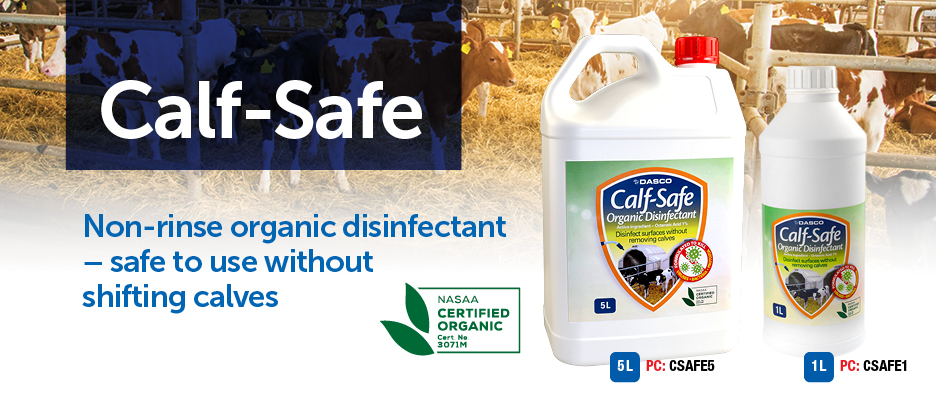 She believes Calf-Safe helped shield her operation from disease outbreaks.
She also believes that Calf-Safe is an important addition to the safe and meaningful range of antibacterial sanitiser/disinfectants Daviesway DASCO has long been committed to.
Calf-Safe works using a process of cell-wall intrusion, complexation of key cations, and the disruption of protein functioning – which adversely affects cellular organisms such as bacteria, fungi and moulds, and non-cellular organisms like viruses.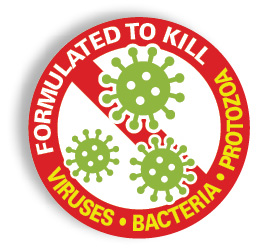 "I not only spray Calf-Safe on all my calf feeders before I start feeding, I spray them as I move between pens when I'm feeding the different groups every day," Cindy said.
"Perhaps once a week, I spray the walls, and that is about maintaining general hygiene. I'm sure that it has kept pathogens at a manageable level in my calf shed and played a big part in why I haven't had the same sort of disease pressures in my calves as other calf rearers have been exposed to."
She said Calf-Safe has a pleasant citrus-based smell, and, because it's safe, she can use it without removing calves from the pen. To that end, she doesn't hesitate to spray it on them either. "It is totally harmless to the calves, so I also spray it on any scouring calves' butts, because it does stop them from re-infecting themselves when they lick themselves," Cindy said.
It also removes odour in the calf shed, while killing bugs. Cindy notes that it completes a full circle of definitive, organic, sanitising products at Daviesway DASCO, which includes Germidet, Calf-Klenz and Stalason® F.
CALF PEN HYGIENE BEST PRACTICE
Calf-Safe – 100% organic, non-rinse disinfectant for calf-pen set-up and daily sanitising.
"Calf-Safe is already in a liquid form and can be diluted readily. It's just so easy to use from your spray bottle – whatever size you're using – to spray walls, feeders, everything really," Cindy said.
"It smells nice, and it has a non-rinse residue, so it continues to have an impact after you stop spraying."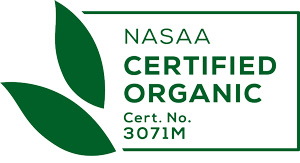 Calf-Safe, the newest addition to **NASAA Certified Organic (NCO) is issued by The National Association for Sustainable Agriculture Australia. It certifies organic commodities meet all domestic and international export market requirements, and is recognised globally as upholding the highest standards of integrity and benchmarks for the industry.

Calf Safe Flyer
For more Calf Safe information – Click here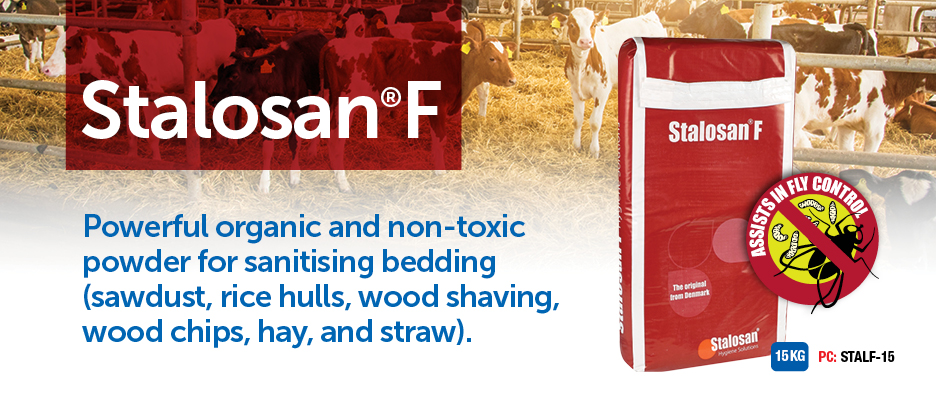 Stalosan® F – Powerful organic powder for sanitising and drying bedding, with a low natural pH (below 4) that binds more than 70% ammonia and destroys/controls pathogens. Also ideal for sanitising boots between pens.
She recommends using Stalosan® F and Calf-Safe in unison for bedding and hard surfaces in the calf shed for other day-to-day sanitising. Both can be used while calves are in the pen, but they are both also an effective post or pre-season clean.

Stalosan-F Flyer
For more Stalosan® F information – Click here
Recommended best-practice for calf-shed hygiene set-up
Remove old bedding from the calves' sleeping area.
Handwash solid walls, hay and grain feeders with Germidet (between groups of calves coming in).
Dust Stalosan® F on the floor (spread at 50g/m2 under bedding, using a hand-held kitchen sieve to sprinkle lightly).

Note:

Apply Stalosan® F weekly (and safely spot-treat bedding) for maintenance. It can be safely applied on the top of bedding.
Maintain bedding depth at 15cm.
Spray all the walls, feeders (including misting the whole pen area) with Calf-Safe.
Safe daily disinfectant for calf feeders, teats, walls, calves and hard surfaces in pens.
DETERGENT AND GERMICIDAL DISINFECTANT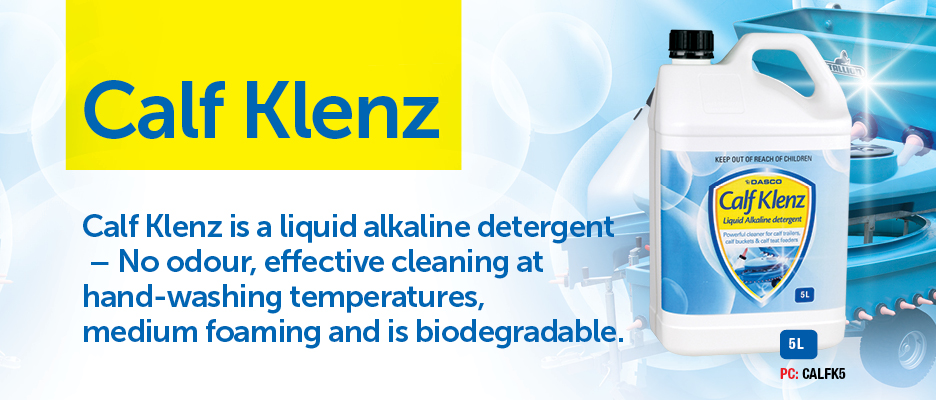 Calf-Klenz – Liquid alkaline detergent that comes with some welcome advantages for calf rearers, including effective cleaning at hand-washing temperatures, in addition to being biodegradable and residue safe.

Calf Klenz Flyer
For more Calf Klenz information – Click here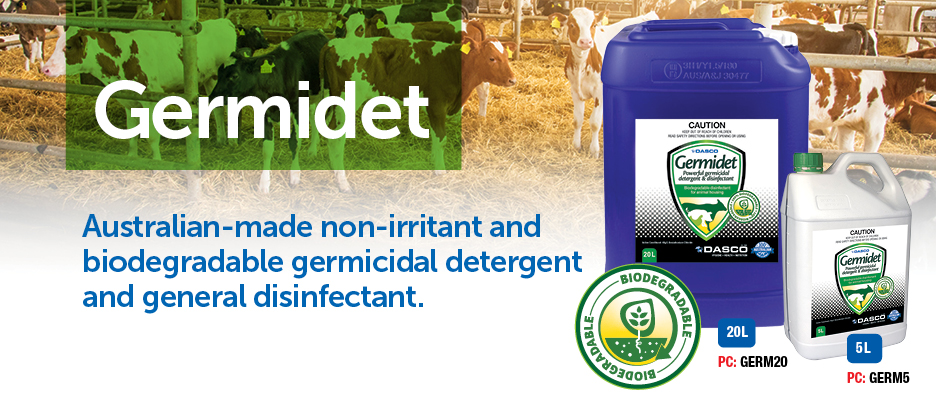 Germidet is a cost-effective (non-corrosive and biodegradable) disinfectant that is as versatile, cleaning animal housing as it is being used as a general farm disinfectant. It makes it as ideal for washing calf coats as it is for giving calf feeders a once-a-week germicidal wash-down.

Germidet detergent – disinfectant calf-pens.pdf
For information on Germidet – Click here
For assistance please contact our Calf Rearing Specialist or your local Daviesway/DASCO
– 1800 666 269
CINDY LUCAS
Calf Rearing Specialist – Daviesway/DASCO
Mobile: 0427192421
Email: