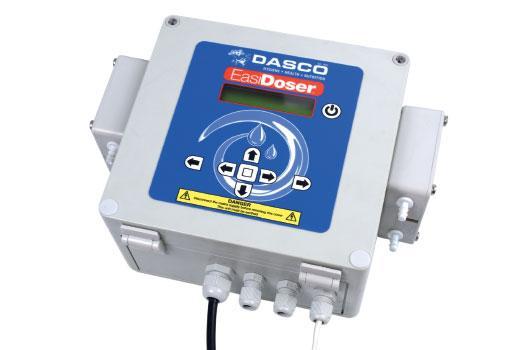 The EasiDoserTM is a microprocessor-controlled dosing and dispensing control system. It is capable of handling the operation of two different capacities of peristaltic pump to precisely dispense fluids for cleaning or sanitisation. Typical applications include dispensing detergent, bleach, acid and/or alkaline. It is also used for mixing and dilution of udder health chemicals for teat spraying/dipping applications.
FEATURES
The device has an LCD display and keypad on the front of the unit for ease of set up/ programming the pump run time and pump speed; the LCD display also shows relevant information when the unit is running and can be used to access performance data.
Activation of the device to initiate the pumps can be by means of depressing a button (Manual Mode), or from a machine signal input of 12 to 230V AC or 12-24V DC or Volts-free contact (Automatic Mode) or via a signal from the microprocessor (Direct Mode).
A combination of time and speed control enables the amount of product dispensed to be determined both by reference to pump speed and run time for accurate dosing.

Pump Run Time adjustable from 1 to 5.00 minutes.
Pump Speed Control adjustable from 50% to 100%.
Pump Start Delay adjustable from 0 to 30 seconds.

Option of setting a time delay before initiating the pump.
The unit has a 'Pump Inhibit' or 'Lock-out' safety feature which prevents consecutive dispensing of chemicals where excessive dosing could be a hazard. This is adjustable from 0 to 30 minutes.
Data logging facility to record and display performance data, including cumulative run time and cumulative chemical consumption.
Data logging feature includes monitoring of peristaltic tube run time to alert when tubes need replacing.
Pump calibration is made via the LCD display and keypad.
Password protected keypad for security.
Includes low level alarm feature to warn when chemical levels are running low – appropriate lance assemblies can be purchased separately.
Available with UK, European or other international plugs.
EasiDoser System – Dasco Dairy Dispensing Equipment Australia