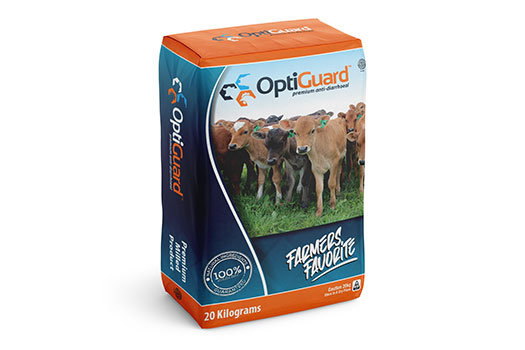 Daviesway DASCO has come together with Australian Probiotic Solutions to make popular OptiGuard premium anti-diarrhoeal for calves readily available through all good rural merchandise stores.
Optiguard is a premium finely milled 100% natural New Zealand zeolite (also known as an Aluminosilicate), which helps treat diarrhoea in calves. They love the taste, and it is ideal to offer adlib, because calves self-manage their intake as they need it.
It is available in single bags or by the pallet – whatever you need.

The science behind OptiGuard?
OptiGuard is a premium quality 100% natural, finely milled Blue Pacific Minerals (BPM) zeolite (also known as an Aluminosilicate) that is mined and manufactured in New Zealand.
Natural BPM zeolites have a unique three-dimensional porous structure, allowing them to absorb and release water reversibly. The extensive internal network of pores coupled with cation exchange capacity of premium milled BPM zeolite, gives OptiGuard a very large surface area to support absorption, release cations, to help treat mild cases diarrhoea.
The ultra-fine particle sizes are important because they allow a larger functional surface-to-gut interface, supporting a healthy immune system, in addition to helping improve a calf's intestinal electrolyte and water balance.
Why use OptiGuard?
Help treat diarrhoea.
Supports a healthy immune system.
Helps digestion – optimising growth and making earlier weaning possible.
BioGro certified for organics.
Calves love the taste.
How to use OptiGuard?
Offered adlib in feed troughs – allowing calves to self-manage their intake.
– You cannot over-feed OptiGuard.
Added to a calf-meal mix.
Ensure calves have access to plenty of fresh water
Ingredients:
100% natural, finely milled BPM zeolite
May contain crystalline silica in a respirable form.
OptiGuard – Dasco Nutrition & Supplements Australia