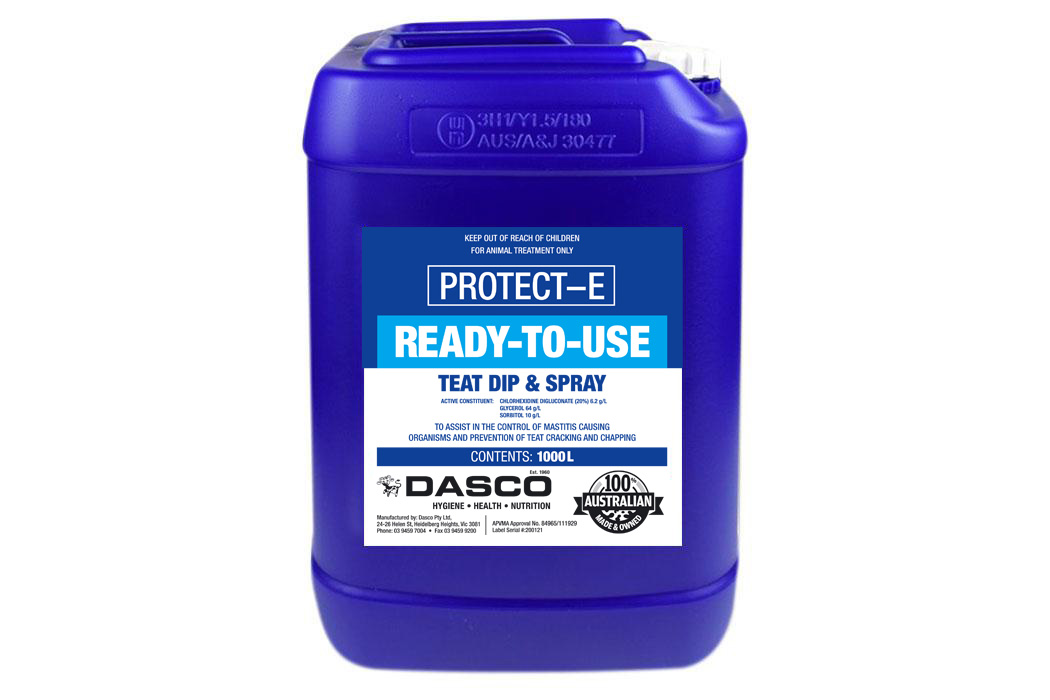 Protect E – Ready to use (RTU) – Disinfectant Teat Dip and Spray
Protects your herd's sensitive teats from hard water and windchill – healthy, supple teats are your best defence against mastitis.
Protect-E Ready-To-Use (RTU), teat dip & spray includes well-known surgical grade sanitiser Chlorhexidine di-gluconate (which has a neutral grade pH), and double the emollients in Glycerine and Sorbitol.
The rapid-drying formula limits the time teats are exposed to the elements, safe-guarding against potential chapping. Perfect for wet and windy climates.
A great option for hyper skin-sensitivity for (both) operators and/or animals when a high UV index causes sunburn.
Protect-E is a colour-coded RTU for high visibility on teats.
So, when the weather is working against you, make Protect-E RTU part of your solution.
ACTIVE INGREDIENTS
Chlorhexidine di-gluconate – A man-made surgical grade sanitiser with a neutral pH. It immobilises bacteria, stopping them from feeding, thus they die. Developed in the 1960s when hospitals wanted a disinfectant, which didn't stain.
Glycerine – Also known as Glycerol, Glycerine is a natural compound derived from vegetable oils or animal fats. It's a clear, colourless, odorless moisturiser.
Sorbitol – A humectant moisturiser (water-attracting ingredient that pulls water into the skin leaving it hydrated and dewy).
Protect-E Teat Disinfectant - Dasco Teat Care Australia