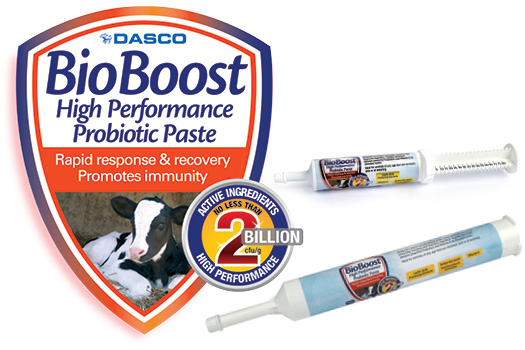 Healthy calves deliver the best milk producing cows.
Probiotics definitely have an influential role to play on farm – improving calf health, supporting strong growth and productivity.
Daviesway is the Australian distributor for BioBoost – Micro-encapsulated, multi-strain probiotic paste that promotes immunity, recovery and improves digestion. Rapidly absorbed, delivers powerful Probiotics and Vitamin E at elevated levels. Ideal for animals of any age that are stressed, sick or at weaning.
For information about BioCalf Probiotic Milk Additive - Click here
ACTIVE CONSTITUENTS
Lactic Acid Bacteria at no less than 1,000,000,000 cfu/g:
Enterococcus faecium
Lactobacillus acidophilus
Bifidobacterium longum
Lactobacillus plantarum
Pediococcus pentosaceous
Lactobacillus casei
Bacillus subtilis.
Total Yeast at no less than 1,000,000,000 cfu/g: Saccharomyces cerevisiae
Vitamin E: 10 IU/
Bioboost - Dasco Animal Nutrition & Supplements Australia