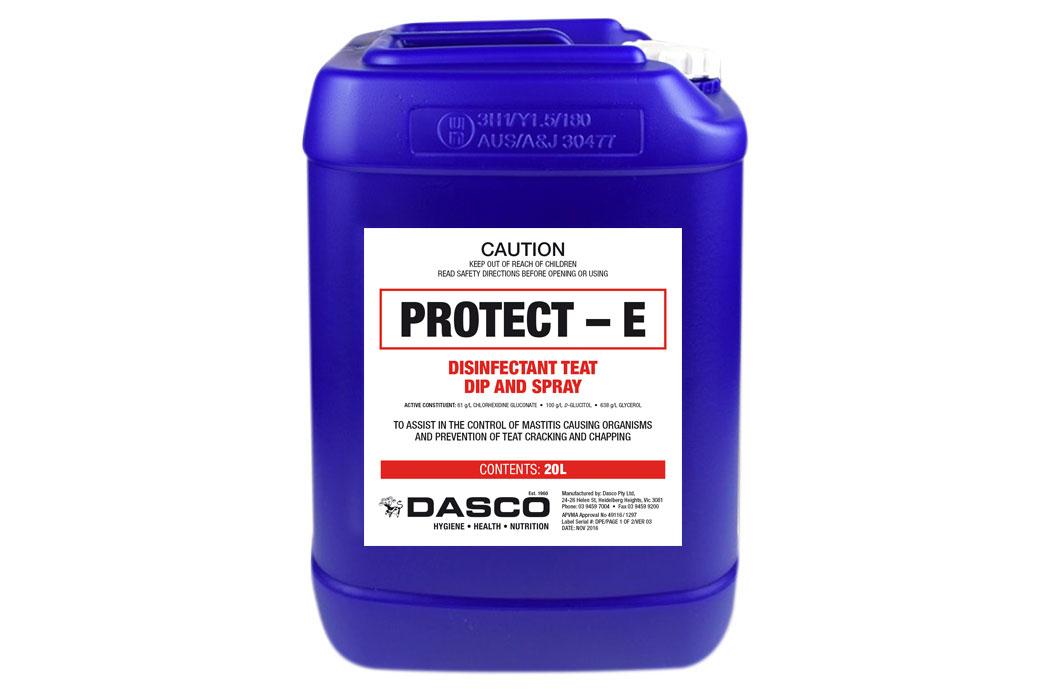 Protect E – Chlorhexidine Concentrate Disinfectant Teat Dip and Spray
A highly effective chlorhexidene gluconate teat spray or dip sanitiser concentrate that helps control mastitis and other disease conditions of the udder and teat skin.

Protect-E concentrate contains a high level of complex emollients so that only water needs to be added. Its ready to use emollient system saves time and money whilst maintaining superior udder health.
DOSAGE & ADMINISTRATION
Make up a spray or dipping solution of Protect-E by adding 1 part Protect-E to 10 parts of water (100ml + 1000ml making 1100ml). Provides a concentration of 5.54 g/L Chlorhexidene Gluconate
For optimum performance it is recommended to use only rain water when preparing solutions. Avoid contact with organic matter or metals. Solutions prepared and kept in this manner will be stable for at least 14 days.
Teat Dipping - At the end of milking dip each teat in Protect-E Teat Dip and Spray solution, using plastic or ceramic dip cups.
Teat Spraying - Teats should be sprayed from below after each milking so as to completely cover the teats and teat openings. Apply a conical spray using a fine nozzle and administer sufficient spray to form a drop on the end of each teat.
Available in 20 Litre, 110 Litre, 200 Litre & 1000 Litre.
Protect-E Concentrate Chlorhexidine Teat Disinfectant - Dasco Teat Care Australia