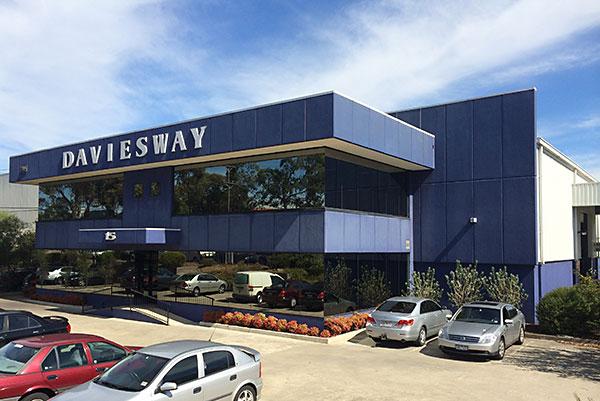 The heart of Daviesway/DASCO
Company brochure -

Click to download
Daviesway/DASCO used to be one of Australia's best kept secrets – bringing fresh ideas to farm every day.
Founded in 1911, this family-owned Melbourne-based business, specialises in building and/or upgrading dairies.
However, there is much more to this dynamic business than the first fly-by suggests.
It also includes an in-house manufacturing arm, a full service and technical team, a calf-rearing specialist department (including Australia's only dried colostrum for calves, kids, and foals), a wholesale product division – and finally, DASCO** (Dairy Detergents Australia Company, which makes pre-mixed dairy detergents).
Personal touch pays dividends
All are anchored by a common thread – a highly-trained and responsive team – led by a high-profile level-one management team (who have all been with Daviesway for an average of 17 years).
So, whether it's a simple, single mobile milker, a herringbone or rotary installation – all the way through to fully housed cows with milking robots – Daviesway offers full support from the planning and construction through to the supply, installation, training and after-sales service/maintenance.
Winning contracts against multinationals
In 2016, Daviesway won the contract to build a new Boumatic 80 Stall Xcalibur 360EX Basement Rotary for Moxey Farms, which is now part of Australian Fresh Milk Holdings at Forbes in NSW. Moxey Farms is one of Australia's largest single-site dairy operations – milking 7000 cows three times a day.
Daviesway was also the last company standing in 2017 to build a $2.7-million 60-bail rotary dairy for one of Australia's oldest companies, VDL Farms (Moon Lake Investments Pty Ltd) in Tasmania.
Strength through connections
Daviesway notably works with BouMatic (USA), BouMatic Milking Robots (USA), Dairymaster (Ireland) branded DairyKing in Australia, in addition to its own Daviesway home-branded Tech-line stalls (manufactured in Warragul, Victoria).
Daviesway/DASCO is aligned with more than 700 dealers, resellers and trading stores throughout Australia. Its Australian networks stretch as far north as Malanda (Far North Queensland), as far south as Hobart (Tasmania), and as far west as Bunbury (Western Australia).
Example - AG Warehouse Stores.


AG Warehouse Mag 2021.pdf
Quality merchandise
Daviesway deliberately sources quality merchandise farmers depend on every day, that are marketed by companies it resonates with.
A fraction of those well-known products include hand-made Quatro gumboots (Skellerup), calf hutches (Calf-Tel), Milk Taxis and automated calf feeders (Holm & Laue), and Mouthpiece Vented Triangular liner technology (Milkrite). And we could add some others, if you'd like to??
So, whether you want to build a dairy, feed a calf, or buy a pair of gumboots – you're in the right place.
Because Daviesway/DASCO has, and always will be, about the people it serves.
** DASCO is the only dairy chemical manufacturing company in Australia dedicated to Good Manufacturing Practice (GMP) accredited dairy hygiene chemicals and mastitis control products for dairy farmers. It introduced pre-mixed teat spray to Australia.
Footnote:
While this website is designed to inform, and help Australia's milk producers find solutions and/or the right people to talk to, it is not a retail outlet. All of its product pages have been either linked to the right specialist/technician to help you find your solution quickly, or you can click on the handy "store icon" finder to find your nearest stockist of Daviesway/DASCO's quality products.
Daviesway Head Office - Daviesway / DASCO Australia