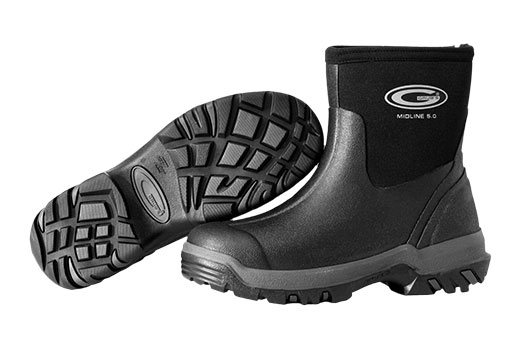 Whether you're walking the dog, gardening or looking for an alternative to a full height boot, the Grubs Midline 5.0TM has you covered. Featuring a 5mm neoprene bootie, durable rubber outsole and reinforced toe and heel, you won't be compromising on comfort, grip or warmth in this innovative ankle boot.
FEATURES
REINFORCED TOE AND HEEL – To support and protect.
TRAX™ OUTSOLE – Designed for maximum traction and stability with a prominent heel for downhill braking.
HEXZORB™ TECHNOLOGY – Hexagonal shock-absorbing component that dissipates shockwaves travelling up through the wearer's leg.
SUPERDRI™ – lining wicks moisture away from the wearer's foot to prevent a sweaty and uncomfortable feel, it is fungus and rot proof so will not smell like cotton lined boots.
COMFORT RATING – +20°C TO -20°C.
Midline 5.0 – Daviesway Adult Gumboots Australia