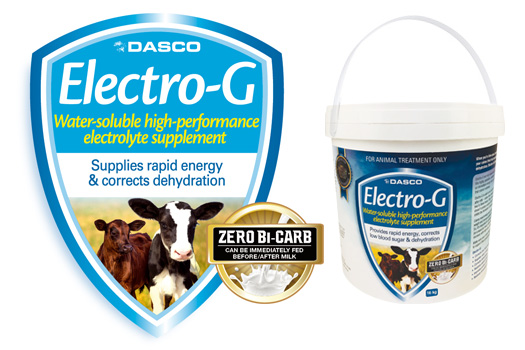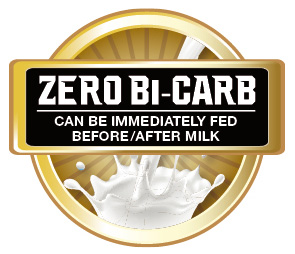 Electro-G – hi-performance electrolyte supplement.
Supplies rapid energy and corrects dehydration.
When you're time-poor, and you want to give your calves their best possible defence against dehydration, Electro-G is the answer... it's a wonderful rehydration solution for sick calves.
Electro-G not only mixes easily in warm water, this highly palatable, powdered electrolyte offers an immediate energy source, with alkalising levels that correct acidosis.
Electro-G is safe to be fed directly before or after milk – rather than having to wait the historic two to three hours. Why? Because Electro-G doesn't contain sodium bicarbonate, which can inhibit the formation of casein in the abomasum.
Calves need energy and protein to maintain their weight and immune system when they are sick. So, it's important to continue to feed milk (in a separate feed), while supporting their recovery with high-spec electrolytes.
Make sure your calves have everything they need to support their growth and development. Electro-G:
Supplies rapid energy
Corrects dehydration
Restores sodium levels
Improves protein utilisation
Restores intracellular potassium levels
For assistance please contact our Calf Rearing Specialist or your local Daviesway/DASCO – 1800 666 269
CINDY LUCAS
Calf Rearing Specialist – Daviesway/DASCO
Mobile: 0427192421
Email:
ACTIVE CONSTITUENTS
Dextrose:

Efficiently replenishes blood glucose levels to correct hypoglycaemia and stimulates electrolyte and water assimilation.

Sodium Acetate:

Rapidly metabolised, it gives an immediate energy hit (sodium bicarbonate doesn't) and it has adequate alkalising levels to correct acidosis without inhibiting milk clotting. Acetates can facilitate sodium and water absorption in the calf's small intestine. It also inhibits the growth of Salmonella species.

Sodium Chloride:

Restores sodium and is a major factor in the assimilation of water to effectively correct dehydration.

Glycine:

Promotes intestinal absorption of water and sodium, and it is a non-essential amino acid, which is used to transport energy to the calf.

Potassium Chloride:

Restores normal intracellular potassium levels to correct hypokalaemia (low potassium in the bloodstream).
Electro-G: Electrolyte supplement for sick calf, dehydrated or stressed calves – Dasco Animal Probiotics, Nutrition & Supplements Australia