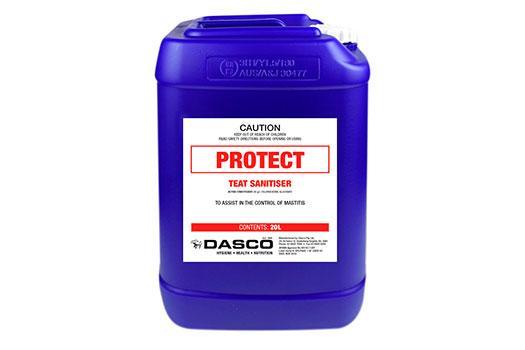 Chlorhexidine Disinfectant Teat Dip and Spray
PROTECT is a powerful chlorhexidine gluconate teat sanitiser. Contains no iodine and provides fast effective kill of mastitis causing organisms. No with-holding period. Protect is suitable for spraying or dipping.
Pack Sizes 20 Litre, 110 Litre & 200 Litre
DOSAGE & ADMINISTRATION
Make up a spray or dipping solution of Protect by adding 1 part Protect to 9 parts of water (100 millilitres + 900 milliltres making 1 litre).
For optimum performance it is recommended to use only rain water when preparing solutions.
Avoid contact with organic matter or metals. Solutions prepared and kept in this manner will be stable for at least 14 days.
Teat Dipping – At the end of milking dip each teat in Protect Teat Dip and Spray solution, using plastic or ceramic dip cups.
Teat Spraying – Teats should be sprayed from below after each milking so as to completely cover the teats and teat openings. Apply a conical spray using a fine nozzle and administer sufficient spray to form a drop on the end of each teat.
Protect Teat Sanitiser – Dasco Teat Care Australia