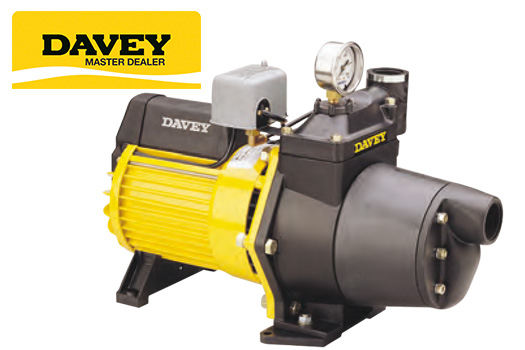 Rugged, reliable single stage jet assisted centrifugal pumps driven by Davey's TEFC motor. Pump fitted with pressure switch for easy conversion to automatic operation.
APPLICATIONS
Ideal for supplying high pressure water for:
Farm water supply from dams, creeks and rivers

Tank filling

Stock watering

Sprinkler supply
For more information on the Davey pump range or any pump repairs, servicing or maintenance requirements, please contact our Davey trained staff at Daviesway Warragul – Phone: (03) 5623 1834
FEATURES
WHY CHOOSE THE DAVEY SHALLOW WELL JET PUMP?
Davey LTEFC motor providing:

IP56 rating for long term protection against vermin,dust and water

Designed for both high ambient temperatures and extremes in supply voltage making them ideal for remote areas

Pump unit features the highest corrosion resistance with outstanding pressure capacity due to:

unique composite casing design with high strength aluminium outer casing and full internal casing made from precision moulded Rilsan.

mounting feet in high impact resistant corrosion proof Xenoy.

Versatile pump - convertible to match required duty

Colour coded jets and venturis for easy identification

Easily converted to automatic operation

165S available with 3 phase motor

Quick and easy installation

Low maintenance

Easy to service if required

Oring seal hand tightened priming plug for easy operation
For more information on Davey - Water pumps and pressure systems – Click here
Davey Pumps – Farm and home water pump and water pressure systems supplier - Daviesway Warragul