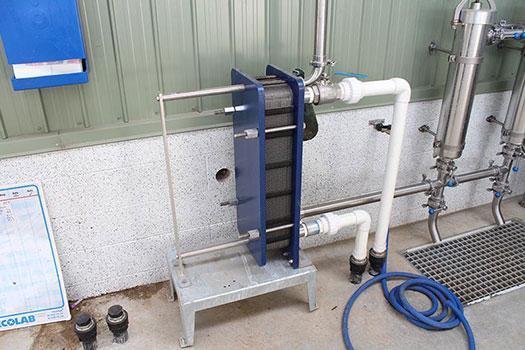 The Supaflo industrial plate cooler is geared for heavy-duty jobs. It cools between 3000-12,000L an hour to within 2-3 degrees Celsius of the cooling water flow temperature. It has 50mm ports through the end plates and cooler plates, giving exceptional flow rates.
Having twice the water-to-milk-flow ratio is recommended for the best results. It also includes the "double-bank", or "dual-pass" option, where the first pass uses water and the second uses a glycol mix or other refrigerated system to lower milk temperature faster.
Daviesway includes a stand, so the cooler is not sitting directly on the floor.
PRODUCTS
SUPAFLO INDUSTRIAL COOLERS
FLO-TEK® SUPAFLO PLATE COOLERS - COMPLETE with 51mm Plain Tube Milk Ports, 51mm BSP Water Ports and floor mounting
SINGLE BANK MODELS (SINGLE, WATER and MILK)
21 Plates SUPAFLO M3000 Litres per hour
25 Plates SUPAFLO M4000 Litres per hour
35 Plates SUPAFLO M6000 Litres per hour
45 Plates SUPAFLO M8000 Litres per hour
55 Plates SUPAFLO M10000 Litres per hour
67 Plates SUPAFLO M12000 Litres per hour
DOUBLE BANK MODELS (SINGLE MILK and DOUBLE WATER)
SUPAFLO DOUBLE BANK MM4000 Litres per hour
SUPAFLO DOUBLE BANK MM6000 Litres per hour
SUPAFLO DOUBLE BANK MM8000 Litres per hour
A full range of spare parts available.
Supaflo Plate Coolers – Daviesway Milking Equipment Australia