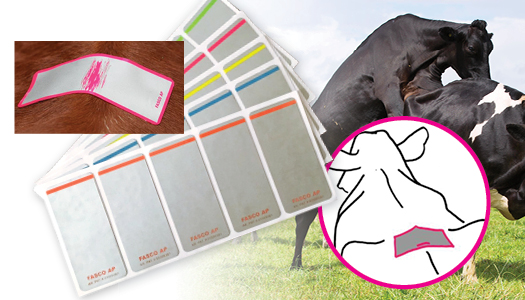 FASCO® AP Mount activity labels take the guesswork out of identifying cows in heat. This product can also be described as heat detection patches, pads, stickers and heat detector indicators for cattle.
The adhesive labels are covered with a silver scratch-off surface that rubs off during the natural mounting activity of cows that are in season – exposing the fluorescent colours underneath. They are also visible at night, giving an added layer of ease and confidence to busy farmers during joining.

FASCO AP Mount Activity Heat Detection Flyer.pdf
FEATURES
Easy to apply – self-adhesive
Increased accuracy for prompt breeding decisions.
Exposes short or silent heats.
Available in five fluorescent colours – 50 Pack.
Farmers have the choice to group cows/heifers that may demand different management strategies.
For example:
Orange: Cows/heifers that have never been joined. Remove and change to another colour when joined.
Green: Problem cows
Yellow: Identifying cows at a three-week return. Must be applied two week after joining.
Fuchsia: Cows that have been treated for infertility.
Also useful for:
Synchronisation in breeding and/or embryo transfer programmes.
Natural service breeding timing.
Determining puberty status & oestrus cycling.
Confirming pregnancies.
Mount activity labels, stickers, pads, dectectors, indicators for heat detection – Daviesway Australia