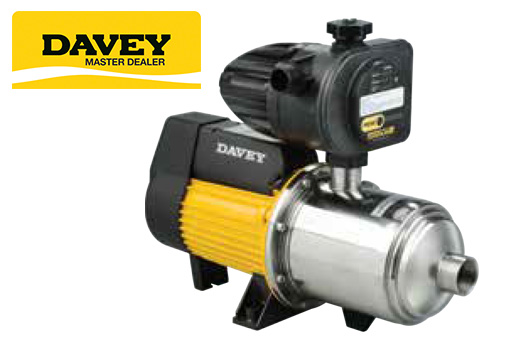 Davey Automatic Water Pressure Systems – compact, all stainless steel horizontal multistage centrifugal pump pressure system control options to suit application. Flows to 430lpm and heads to 65m.
APPLICATIONS
Automatic pressure system for:
Household and domestic water supply
Farming and agricultural water systems
Irrigation and turf watering systems
Automatic general water transfer
For more information on the Davey pump range or any pump repairs, servicing or maintenance, please contact our Davey trained staff at Daviesway Warragul – Phone: (03) 5623 1834
FEATURES
WHY CHOOSE THE DAVEY LIFESTYLE SERIES (HM) WITH TORRIUM2?
Horizontal multistage centrifugal pump with all hydraulic parts in stainless steel:
Suitable for high water temperatures
Corrosion & wear resistant
Axial suction & vertical discharge:
Compact design

Easy to install
Stainless steel impellers with high efficiency impeller profile & thick self-centring impeller neck rings for:
High efficiency
Reduced power consumption:
Low noise output
Air purging valve and stage porting:
Easier priming
Less susceptible to air leaks
Improved dependability
Impellers mounted directly on extended motor shaft
Maximise performance per stage

High efficiency

Long motor & pump life

Increased wear resistance
Pump casing assembly attached to motor bracket at 8 points with o-ring seal:
Complete stainless casing
Better sealing
Longer service life
Davey built, totally enclosed fan cooled (TEFC) electric motor:
Single-phase motors have built in thermal overload protection with automatic reset and 1.8m long power lead and Australian 3 pin plug
Sealed and greased for life motor bearings
Over sized drive bearing
Longer life
Easy service
Economical & quiet running
TORRIUM2 CONTROLLER
Torrium2 controlled HM Series provides a constant flow water supply system with an all stainless steel pump unit. The Torrium2 is adaptive, eliminating cycling, provides loss of prime protection and over temperature cut out. Pressure tanks can be added if site conditions require additional draw off.
For more information on Davey - Water pumps and pressure systems – Click here
Davey Pumps – Farm and home water pump and water pressure systems supplier - Daviesway Warragul