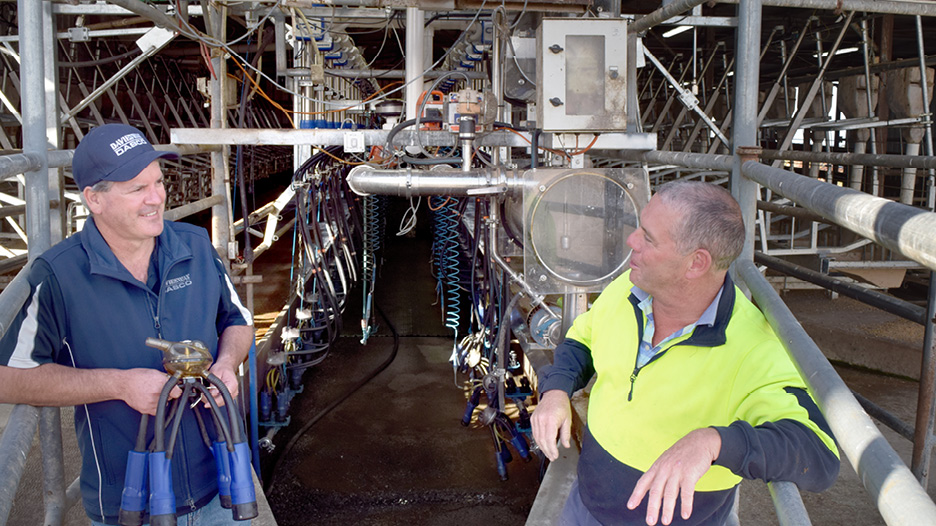 Peter West and Brendan McGrath (Daviesway – right). The milking machine change over was completed in a day. At 10:00am there was nothing in the pit and Peter and his team were milking in the afternoon with the new equipment.
Gutting and rebuilding a dairy in between milkings is now achievable and faster than many may imagine.
In 2021, Peter and Gai West transformed their aging South Gippsland dairy into a welcoming workplace that now functions efficiently and effectively. But more than that: they were able to make the changes while the cows were being milked through it twice-a-day.
Peter and Gai West milk 320 cows on 162 hectares [400 acres] at Lance Creek, Wonthaggi. Peter has had a long and eventful journey with his dairy – with five builds or upgrades – so when he decided to make some more changes, he braced for the upheaval, because he knew what it would take, and he needed the result.
However, he says he has been pleasantly surprised at the execution and the outcome this time.
Time halved, milking numbers up 70%
The maths reveals that the Wests used to milk 220 head twice-a-day in eight hours. Their dairy can now milk 70 per cent more cows in half that time. An additional bonus is that Peter can now step away without worrying that he will get a phone call about a potential disaster.
"In our first dairy we built, the poor herd-recording guy had to go home after milking at our place one day and stand in a hot shower for an hour because the hail was coming up the pit," Peter said as he recalled their gnarly start. "It was so cold; I think he had a touch of hyperthermia.
"The pit in those days had a big, open end, straight out to the weather. We had an 11-unit swingover, and it took us two-and-a-half hours to milk 120 cows in those days."
They progressed to a 11 a-side double-up before expanding to a 22-unit swingover, and then the 22 a-side double-up. It had been two decades since they had made any significant improvements when Peter once again raised the subject with his Daviesway service providers.
"I had Tombstone stall gates, and the cows needed more room. I also had a young guy, Tom Roberts, starting to work for us and we needed an easier and safer working environment for the cows and the people," Peter says.
"If I needed to be somewhere else, I can't be getting a phone call that a cow is half stuck in the pit. Not that it happened often, but it always happens when you're not there, doesn't it?"
Before dairy upgrade photo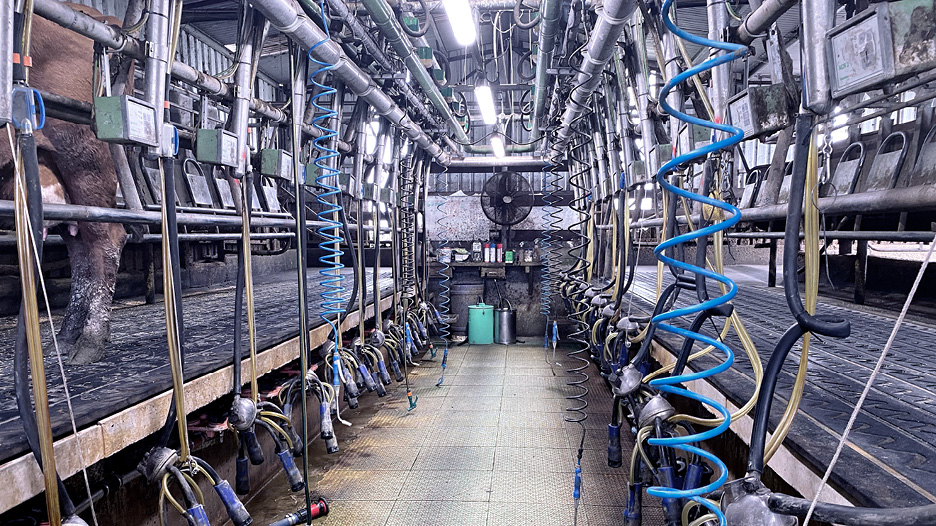 The original 20 unit double up
Before dairy upgrade photo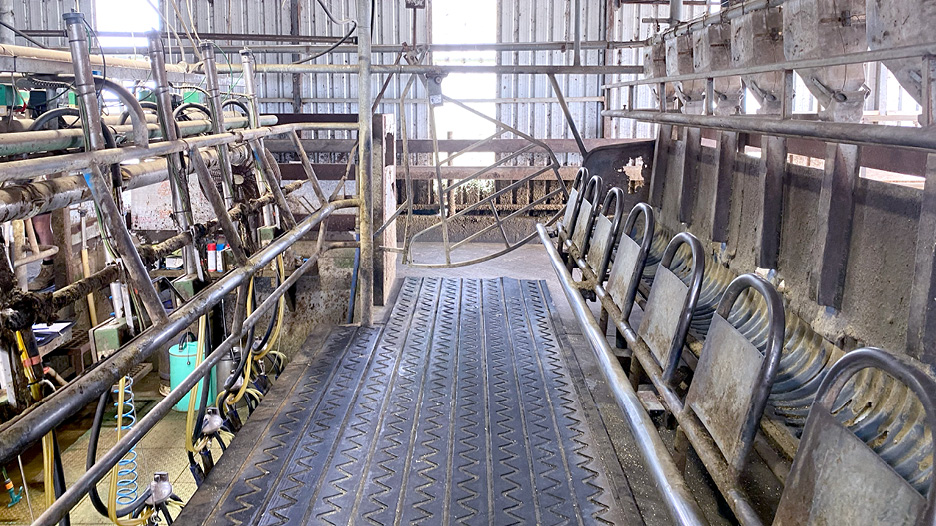 Pictured is the original cow bailing. The cows were located in the dairy only by the position of their heads, which gave them plenty of opportunity to move during milking. The rear supports were rusting, which was making the system unstable and dangerous for the cows and the operators.

Before dairy upgrade photo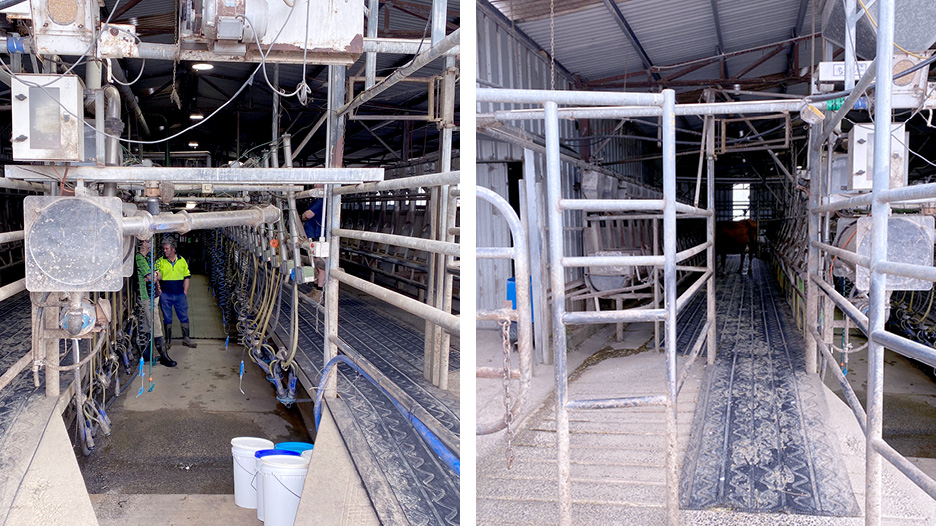 The original receiver and pump set used to be mounted on the left side of the pit. They used a vertical lift entry swing gate for cow access.
Technological advantage with advances
His changes included installing new Tech-Line bailing (working on compressed air rams/compressors), which gave the cows more room; a new 102mm milk line, replacing the dairy's A-frame (to restore its rusted backbone); new MR-1 jetters; a new Boumatic BP400 vacuum pump system with VSD (variable speed drive); an Industrial Plate Cooler; CR-1 Electronic Cup Removers (ECR); and new kick rails.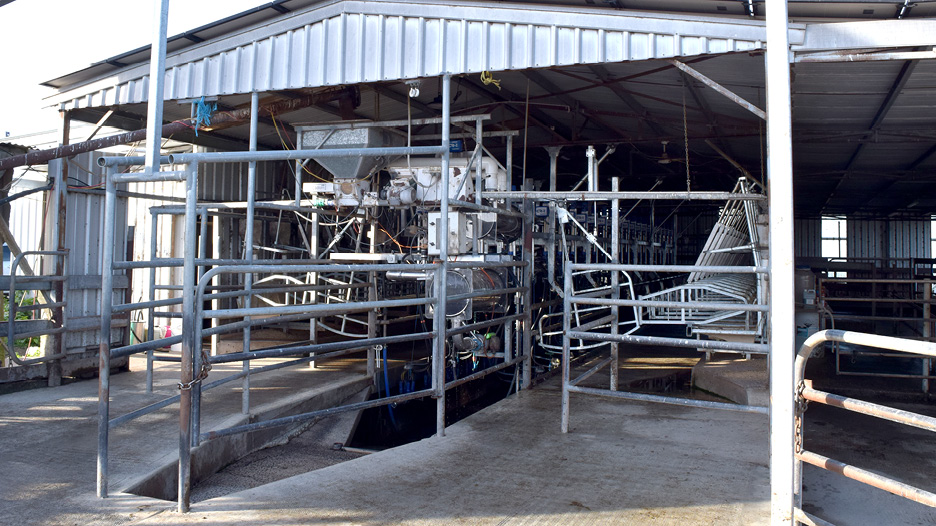 The new Tech-Line EX1 cow bailing system has been installed at this point. The high lift entry gates are operated by a pneumatic ram. A new milk line and receiver has been installed – and swapped to the right-hand side of the pit.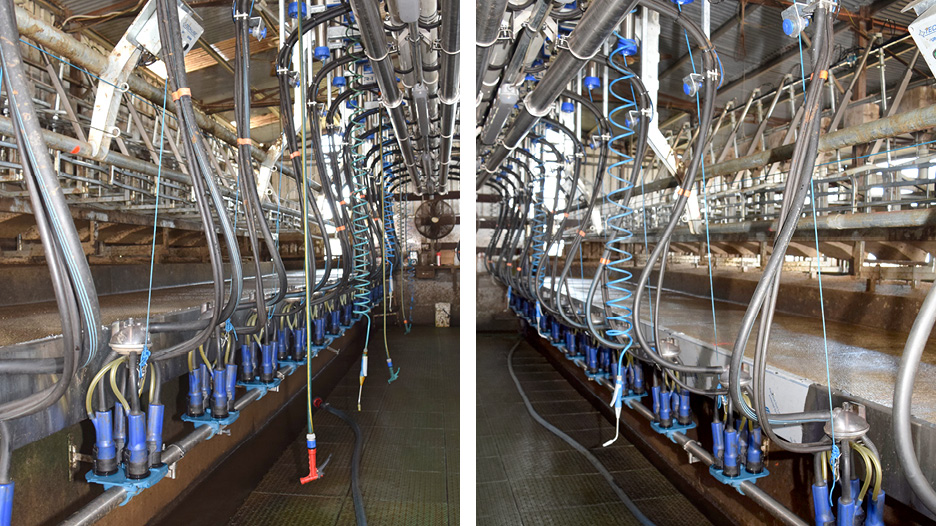 New equipment pictured after the installation. The bailing changeover was completed one side at a time over a few days. The A-frame central assembly – including the breech rail, kick rail and supports – was changed over in two days.
One of the big advances since Peter's last upgrade was not only the technology going into the dairy, but also the improvements in the way they were able to be installed.
By combining Daviesway's Greg Lechte's practical vision for what needed to happen, with Clint Dent's CAD (computer-aided design) skill-set, the two were able to create an accurate and expediated "plug and play" plan for several parts of the project.
It meant much of the early legwork was completed in Daviesway's manufacturing workshop at Warragul – without disrupting Peter's days – and the pre-fabricated work was delivered on-point, ready to install. This halved the time it took the crack Daviesway installation team to complete some of the projects – including the dairy's A-frame.
"Greg and I decided rather than leaving all the old metal we could refresh and strengthen it with a new one." Peter says. "Honestly, they brought it in a kit form and in two days it was done. The boys had measured it all and made all the portals to fit in the shed, they came in and welded it up, and basically bolted it together."
Together with Peter's commitment to milk on one side and to start early each morning, it allowed the Daviesway team to finish the overhaul in six weeks.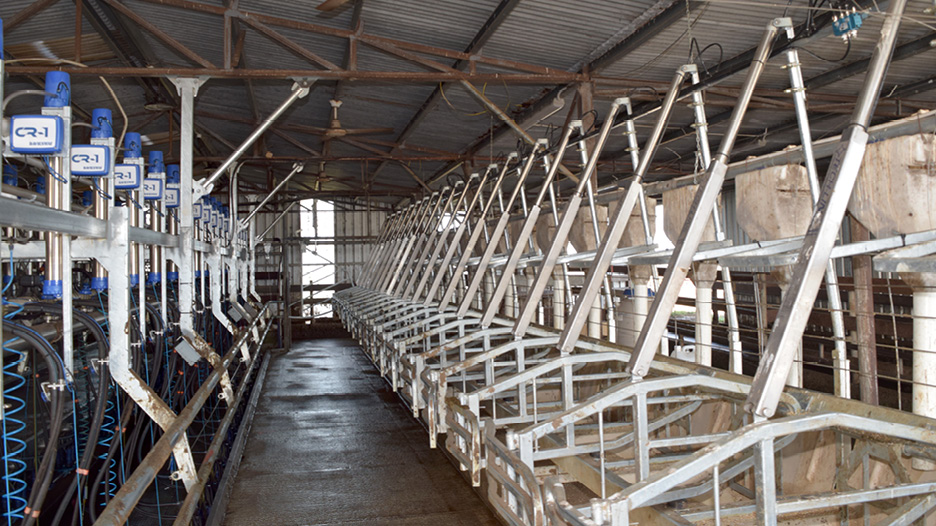 The Tech-Line EX1 stall system offers individual cow positioning. The flap gates remain closed until the first cow enters, which will open the second cow position. Gates are lifted together at the push of a button by individual pneumatic rams.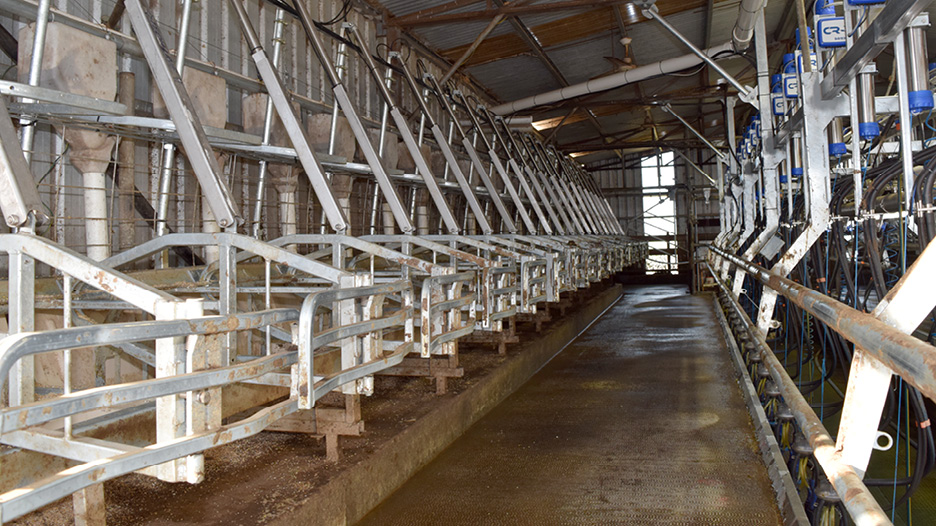 The A-Frame assembly is supplied in pre-fabricated modules to ensure a swift and seamless on-site installation – reducing the down-time for the operation.
"It's doable to keep milking through the changes," Peter says. "The main thing was that we gave the Daviesway guys as much opportunity as we could for them to do their job. Because if I wanted to milk on both sides of the dairy on the weekends, they would have had to spend three hours to set it up for me. They were better off putting those three hours extra work into the changes.
"The cows were going through all right; it was only an extra hour's milking for four to six weeks. We lifted all the concrete too, levelled it up, and poured it over the existing platform. Cows like simple and that's what we now have: clever, but simple nonetheless."
Results worth it
Peter says the result made the brief inconvenience worthwhile.
"The new dairy does everything I expected it to do. I can now shut the gate, lower the stalls, and open the entry gate without moving.
"I'll be three quarters putting the cups on, and reach around and the other side is loading. I'm no longer doing so many miles and running around. I milked 120 cows through the winter in something like 45 minutes, and by the time we get to 340 cows through the dairy in the spring, I'd expect us to be done in two hours still."
The Boumatic BP400 Blower vacuum pump system is known for its reliability, in addition to saving running and servicing costs. Efficiency gains of up to 60 per cent can be achieved over conventional oil-vane vacuum systems. Plus, they do not use oil or water to operate, so there is no waste or ongoing operational costs.
The vacuum pump VSD controls the vacuum pump system electronically. It makes the dairy quieter, eases wear, and also saves power.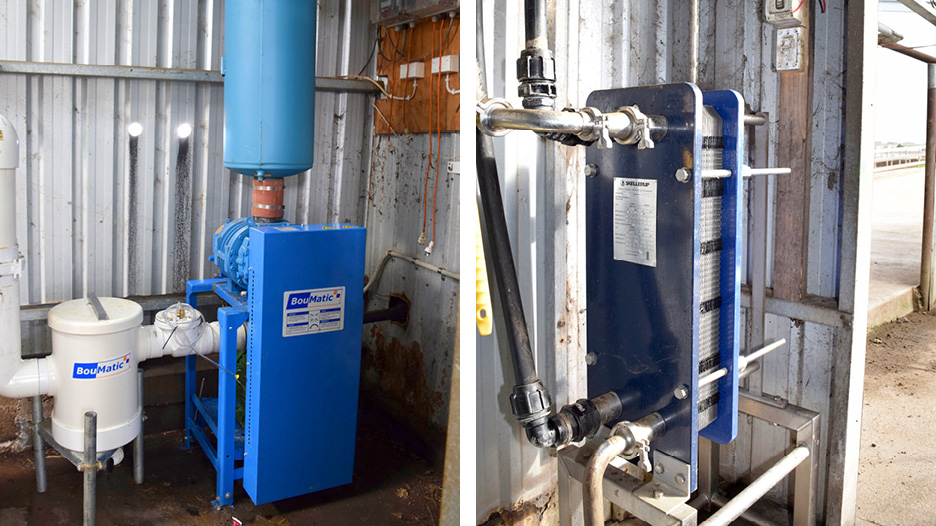 This low-maintenance blower vacuum system does not need oil or water to operate – just a simple annual service. The pre-filter reduces the chance of airborne contaminants entering the vacuum pump. A variable speed drive further increases the system efficiency – because of the lower revs, lower power consumption, and quieter operation. A new industrial cooler mounted on a stand to keep it clean and dry – brings greater cooling efficiency than the original system.
ECRs simple, yet clever
One of the key changes was the installation of the MilktechNZ's CR-1 ECRs – a complete and retrofittable ECR system, which is wi-fi driven. Farmers can monitor and adjust their preferred milking parameters from any smart device. The technology also includes "lift to start", rapid venting for softer pull-down, and an adjustable retraction speed. Its "plug and play" design means it can be installed in a dairy within one to two days between milkings. Its streamlined presence in the dairy has also been a winner for dairy farmers who value their space.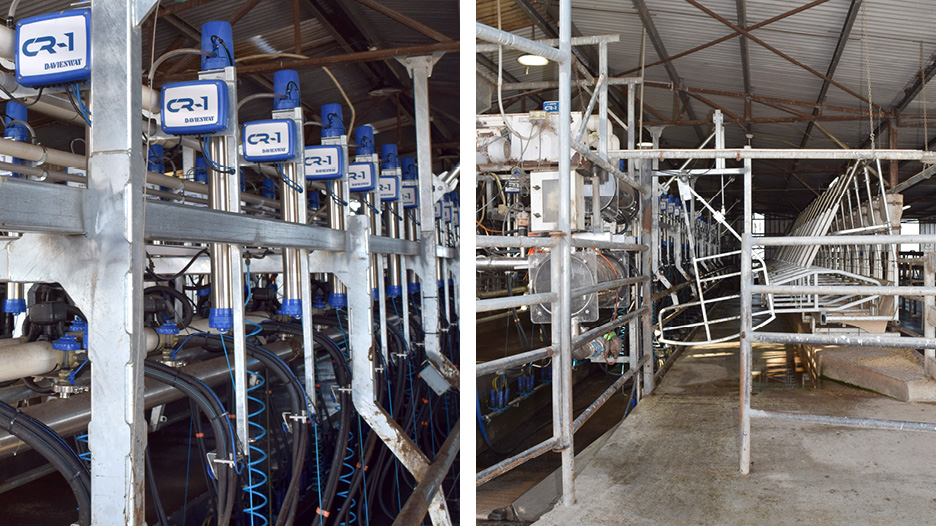 A pre-fabricated hot-dipped CR-1 cluster remover support enables quick and uniform installation. The high-lift entry gate allows open access.
Peter says, "They are simple, and they work. You can make changes from your iPhone [or any smartphone] and it automatically changes the settings on all of them. If the power goes off and the cups fall off, normally it's a hassle re-building vacuum. With these it doesn't because they go to the 'off' position when there's no vacuum. So as soon as the power is on, you're back into it. I also love the 'global wash' function, which transfers all the milking points from milk-to-wash mode with a single switch.
"And, once I pull off the cups off the jetters, I turn the plant on and the clusters all just lift up, and I'm ready to go. None of that running along to every set of cups."
Peter is also more thrilled than he expected to be with his new Daviesway MR-1 jetters. They support the Milk Rite IP15 triangular milking technology. The jetters have all the clips facing forward to allow for easy cluster attachment and removal, an easily adjustable flow rate, and a single one-piece moulded body for durability.
Peter was one of the early adopters of Milkrite Impulse Air – the world's only internally triangular moulded plastic shells with a mouthpiece-vented triangular liner. Its gentle, three-point milking action includes a patented, revolutionary air vent in the mouthpiece, which is at the teat entry point of each shell.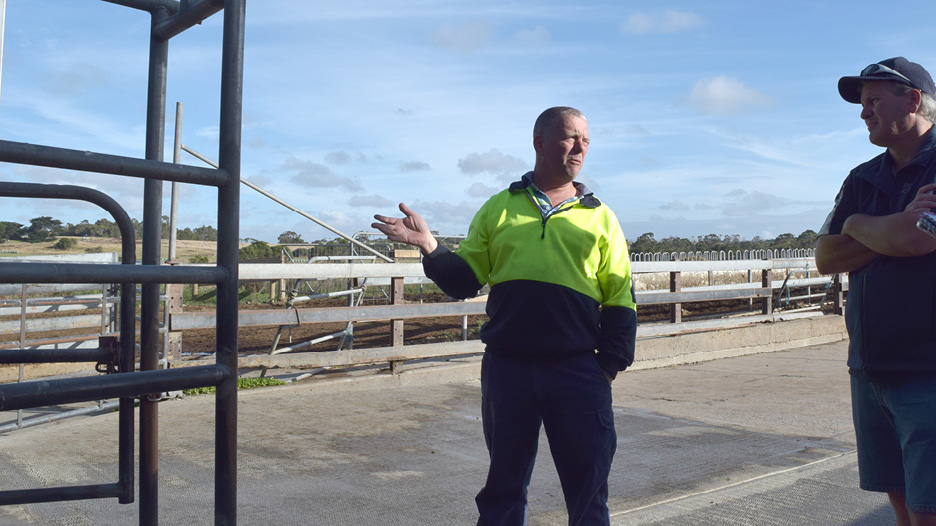 Peter West says the new dairy does everything he expected it to do, and there is another bonus in his decision – the people he did it with.
Importantly, it means the vent introduces air above the milk-flow, stopping splash-back and thus logically lowering the chance of cross contamination between cows. It also makes milking and cup removal gentle and improves teat health.
"We've been on the triangular liners for years," Peter says. "The vented liners were just the way to go as far as I was concerned. Basically, it massages the milk away from the teat rather than drawing it into the teat. Because of the three-sided massage, and the lack of head pressure with the vent position, the cows aren't angry when the cups come off and you notice at dry cow time that you can easily touch their teats and it's hard to find the orifice because their teat health is so good. There is also minimal cup slip.
"The jetters have been a great complement to them. You can waste a lot of time with that job and create a lot of problems if you're not watching. Because that cup is moulded, I can take them off super-fast, and within half a minute I've done the shed. The other ones I had were rubber cups and I had to push them in and pull them out. The jetters have been a great decision."
Comfortable moving forward
The icing on the cake has been Peter's solid rapport with his local Daviesway/DASCO service and chemical representatives.
"Yep, they're pretty good," Peter says. "The boys are always only a phone call away, and it's nice to know that everything has been supplied locally by guys that live and work in the area, who are easy to deal with, and who know my dairy almost as well as I do."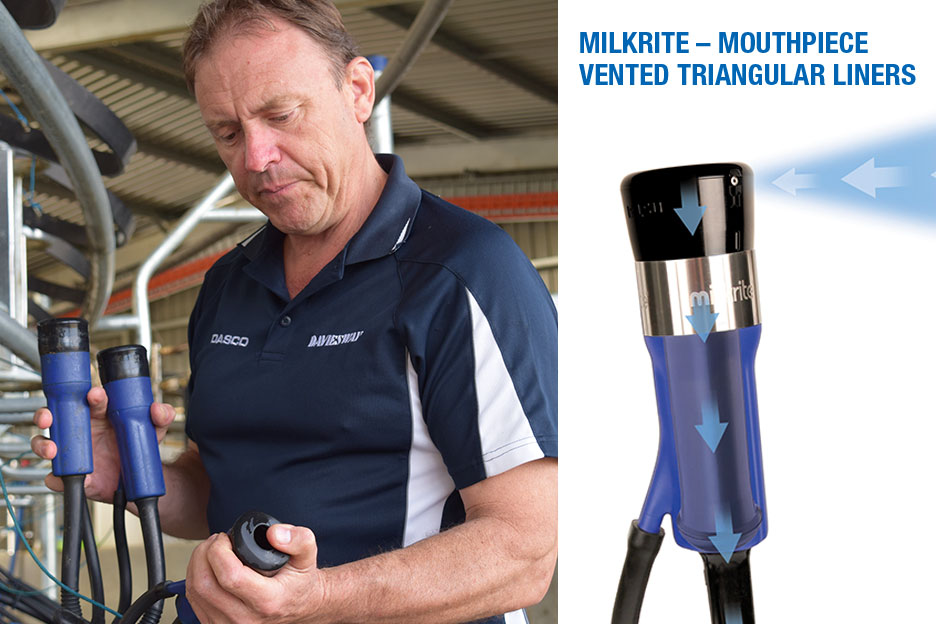 "The liner is the most important thing in the dairy – next to the cow and operator," Nico said. "All the rest of the equipment is simply milk-path transport equipment. "We've seen the net results of this technology on so many farms in Australia, and around the world, and they speak for themselves. The improved teat condition, lowered SCC [somatic cell count] results, calm cows, less cup slippages … and the list goes on."
NICO POLATO
DAVIESWAY SPECIAL DAIRY PROJECT MANAGER
Mobile: 0428 517 363
Email: nico.polato@daviesway.com.au
FREE CALL DAVIESWAY – 1800 600 269

See more Daviesway Dairy project information below

Daviesway – Build Your Dairy Your Way



Milkrite Triangular Vented Liners – Why are they so good?

Dairy needs updating – Renovate or build?
.