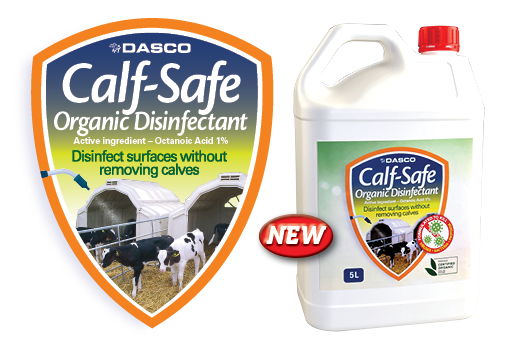 Non-rinse organic disinfectant – safe to use without shifting calves.
KEEP YOUR CALVES SAFE?
Calf-Safe joins the important range of safe and meaningful antibacterial sanitiser/disinfectants to which Daviesway DASCO has long been committed.
It is a natural Australian-made biocide derived from 100% botanical extract, which is NASAA certified input for organic production.
Calf-Safe is rated to the strength of a hospital-grade disinfectant, and it is safe to use every day while calves remain in the pens. It is also a non-rinse sanitiser, so continues to have a bactericidal and fungicidal impact on hard surfaces until the loading exceeds the volume of Calf-Safe present.
It's also safe to use on calf teats between groups, to spray on scouring calves to stop them re-ingesting bacteria, and to apply to all surfaces in the pen (and on calf feeders) to stop cross-contamination.

Calf Safe Flyer
FEATURES & BENEFITS
Safe to use with calves in the pen
Pleasant citrus smell Effective on all surfaces
NASAA-certified input for organic production Biodegradable and residue-free
Successful against a broad range of pathogens 5-year shelf life, if stored at room temperature & out of sunlight
Available in 1 & 5-litre containers

THE SCIENCE
Calf-Safe works by using a process of cell-wall intrusion, complexation of key cations and the disruption of protein functioning – which adversely affects cellular organisms such as bacteria, fungi and moulds, and non-cellular organisms like viruses.
With a pH of 3.5 (neat) and a 3.4% (1% solution) Calf-Safe is infinitely soluble in water. The clear, deep red/brown medium viscosity liquid has a five-year shelf life, if stored as directed.
Calf-Safe completes a full circle of definitive, organic, sanitising products at Daviesway DASCO, which protect your calves, your team and the environment.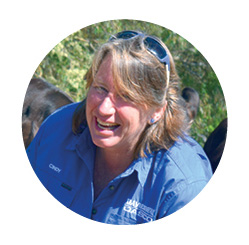 CINDY LUCAS
Calf Rearing Specialist – Daviesway/DASCO
Mobile: 0427192421
Email:
Calf Safe organic disinfectant – Dasco Calf Shed Hygiene Australia