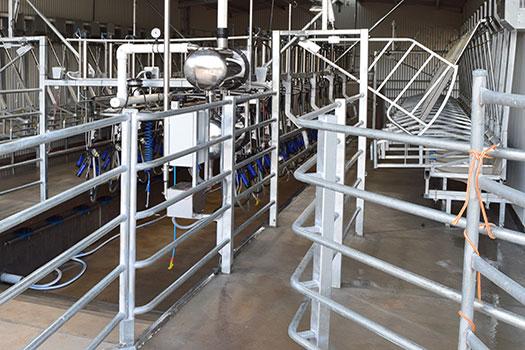 End Exit configuration is a popular style of Herringbone Dairy. Cows walk in one end, stand on the platform for milking and then walk out the other end. Daviesway design and manufacture the Tech-line (Larsen style) End Exit Stalling out of the Warragul branch in Victoria and have designed and installled many robust Dairy King systems.
TECH-LINE STALLING
The Australian Made Tech-Line (Larsen style) stalling system is designed for End Exit installations.
The system can include:
The bailing or cow location system
The stall work – or A Frame and kick / breech rail assembly
Entry and exit gates
Entry areas
Cows entering dairy
Cows exiting dairy
Tech-Line E-X1 Entry Gate Systems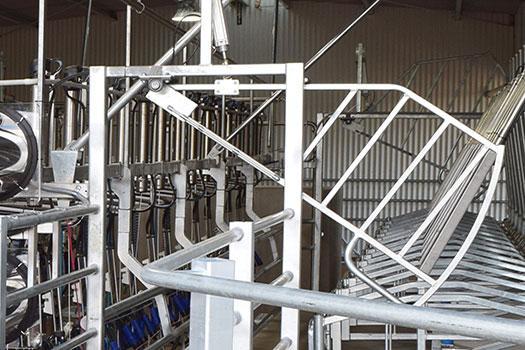 All have wide open areas for easy cow access.

Vertical Lift – Gate Style
This square section gate is mounted on a post, and moves vertically with the assistance of a counterweight. When the anchor chain is released the gate will travel upwards due to the counterweight. The operator then pulls the gate down behind the cow and locks the chain over one of the provided hooks.
The gate has the advantage of swinging to wrap around the back of cows and bring them into the platform.

Pendulum Style (Compressed Air Operation) – Gate Style
The E-X1 pendulum style entry gate is driven off a compressed air ram. This provides a more positive operation due to the consistency of air pressure, and does not use vacuum that is required for a clean efficient milking. This entry gate is lifted by a simple flick of a cable that runs the length of the pit, and falls under its own weight.


Tech-Line E-X1 Exit Gate Systems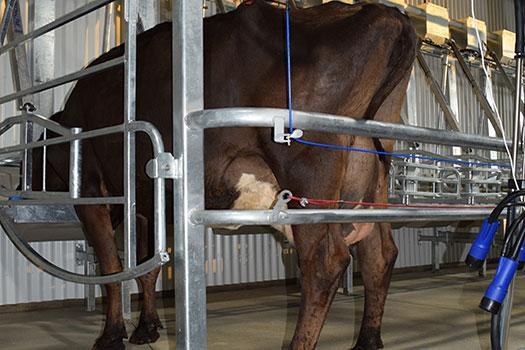 The Tech-Line E-X1 Pendulum Style exit gate simply improves on what generations of farmers have known – a simple robust system is essential for day to day operation.

Manual Operation – The gate can be controlled manually off a rail running down the length of the pit and equally spaced handles.

Pneumatic – Pull Cable – The same gate can also be controlled with a compressed air ram. Using the same gate and system, this option is lifted by a simple flick of a cable that runs the length of the pit.


Tech-Line E-X1 Stall work
As part of the integrated Tech-Line bailing system, we can also supply the "stall work" system.

This will include:
Nibs for the edge of the pit
Kick rail
Breach rail
A frame assembly
Roof support
Lead in race system
End Exit- Daviesway Tech-line & Dairy King Stalling and Bailing Australia